In brief
Claim
There are almost 11,800 more doctors than in 2010.
Conclusion
This is roughly correct looking at doctors working in NHS hospitals and community health services in England.
"Since Conservatives came to power in 2010 there are almost 11,800 more doctors."

Conservative party, 26 August 2017
This is pretty much correct.
There are 11,700 more doctors working in NHS hospitals and community health services in England in May 2017 compared to May 2010 when the Conservatives originally came into office. That's a 12% increase.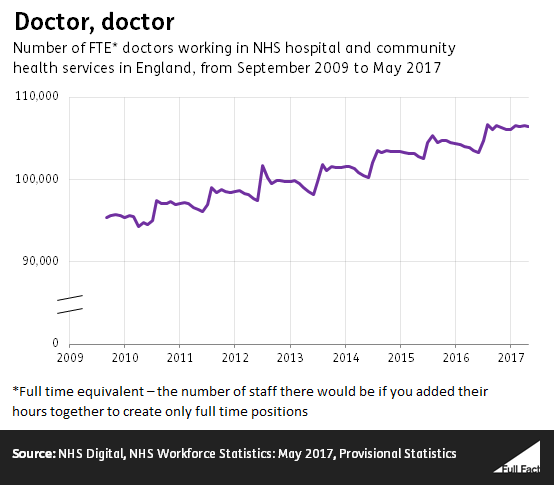 Using figures for April 2017 (which are the ones used by the Conservative party to make the claim) and comparing back to May 2010 there were 11,800 more doctors. These figures look at full time equivalent staff – that's the number of staff there would be if you added their hours together to create only full time positions.
These don't include the number of GPs working in England though. Information on GP numbers isn't comparable as far back as 2010 because of changes in the way the figures were collected.
Of course this doesn't really tell us anything about the impact this increased number of doctors has on patients and the NHS. We've looked at other areas including the level of satisfaction with the NHS, the number of people attending Accident and Emergency and the state of the NHS elsewhere.
With Brexit fast approaching, reliable information is crucial.
If you're here, you probably care about honesty. You'd like to see our politicians get their facts straight, back up what they say with evidence, and correct their mistakes. You know that reliable information matters.
There isn't long to go until our scheduled departure from the EU and the House of Commons is divided. We need someone exactly like you to help us call out those who mislead the public—whatever their office, party, or stance on Brexit.
Will you take a stand for honesty in politics?
---