In brief
Claim
55% of the NHS budget is spent on the over 85s.
Conclusion
We can't find any data to support this. Analysis by the Institute for Fiscal Studies suggests that by 2021/22 around 10% of health spending across the UK will go on those aged 85 plus.
"55% of NHS budget is spent on over 85s."

Gina Miller, 6 July 2018
These figures seem to come from a Sky News article, which states that 10% of the NHS budget is spent on the over 30s, 20% is spent on the over 65s and 55% is spent on the over 85s.
Sky News told us it calculated the figures based on data published by the Institute for Fiscal Studies (IFS), but the IFS told us they don't recognise these figures. We've asked Sky for more information.
Other figures we've seen from the IFS suggest that the proportion of health spending across the UK (rather than just the NHS budget) which goes to those aged 85 and over is likely to be around 10% by 2021/22.
Experts suggest that 10% of health spending will be on the over 85s by 2021
The Institute for Fiscal Studies (IFS) told us it wasn't familiar with the figures used by Sky News, but did provide us with other information.
When compared to a 30 year-old , spending across the UK on health (not just the NHS) for an 85 year-old is projected to be 5.6 times higher in 2021/22, and twice as much for a 65 year-old. That's taking account of the fact that not all people of those ages will necessarily need to use health care.
But that doesn't mean that 85 year-olds will require 5.6 times as much of the budget as 30 year-olds, because there are fewer people at that age.
Using population projections for 2021 we can see that those aged 85 and over are projected to make up just 3% of the population of the UK. Those aged between 65 and 84 made up 16% and those aged 30-64 made up 45%.
Based on this, 10% of health spending across the UK would go to those over the age of 85 by 2021/22, 32% would go to those aged 65 to 84 and 35% would go to those between the age of 30 and 64.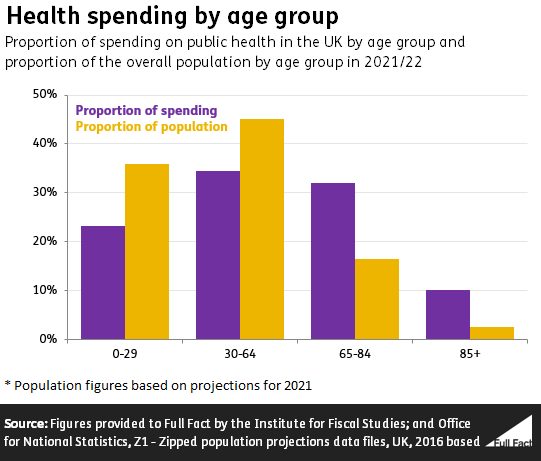 Health spending came to £150 billion in 2016/17
Public spending on health in 2016/17 came to just under £150 billion—that's in 2018/19 prices.
Most, but not all, of that money was spent on the NHS. The rest was spent on things like public health initiatives, education, training and infrastructure.
Health spending across the UK is devolved so each of the four governments is responsible for their own spending (with the UK government responsible for spending in England).
The IFS has said that "With the older population growing rapidly, along with the numbers suffering chronic health problems, and a growing pay and drugs bill, demands on the health service will only continue to grow."
The number of people over the age of 65 has increased much more rapidly than the number of people under 65 over the last 60 years.
Over the next 50 years the proportion of the population under the age of 65 is projected to decrease, while the proportion over the age of 65 is expected to increase.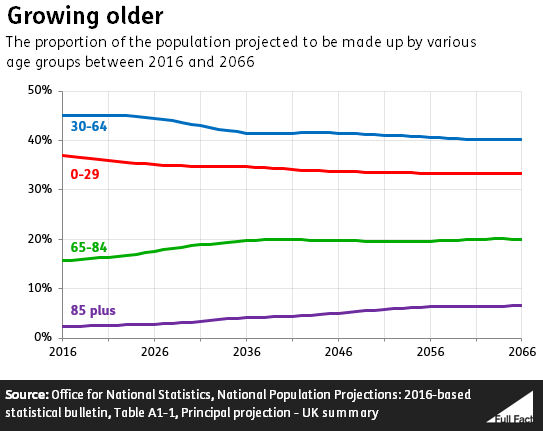 Can you help protect this election from the influence of bad information? Support Full Fact
This election, clear, accurate facts won't always be a guarantee. False and harmful claims are spread every day by our public figures and media. Intentional or not, they have the power to shape the choices we make. We all deserve better than that.
That's why we're fighting to keep this election more honest and accountable. And we can't do it without you. In a fast-paced campaign, our supporters mean we can hold all candidates to the same three principles: get your facts right, back them up with evidence, and correct your mistakes.
Just a small monthly donation keeps us scrutinising the most harmful false claims around the clock, and challenging the people who make them.
If you, like us, don't want your vote to be influenced by bad information, can you help out?
---