In brief
Claim
The net migration target could only have been met if immigration of non-EU citizens was cut.
Conclusion
Correct. Significant reductions to non-EU immigration will have been needed given the government can't control the volume of EU immigration. But non-EU levels are now roughly what they were back in 2010, so the target is far from being met.
The Home Office set a target to cut immigration down to the tens of thousands.
This is correct, referring to net migration rather than just immigration. Governments since 2010 have continually mentioned this figure, though it's not clear if it is still in place.
Claim 1 of 2
"[The Home Office] set the tone which was this, we have to cut immigration down to tens of thousands. They knew they weren't going to be able to do that, because it was free for people to move about from Europe, so the only way that they could cut back on immigration was [to cut] people who came from outside of Europe."

Emily Thornberry MP, 19 April 2018
It's correct that governments since 2010 have set a target to reduce net migration to the tens of thousands, and this target has never been met. Net migration actually rose to more than three times the target at one point and latest figures for the 12 months to September 2017 estimate it at 244,000.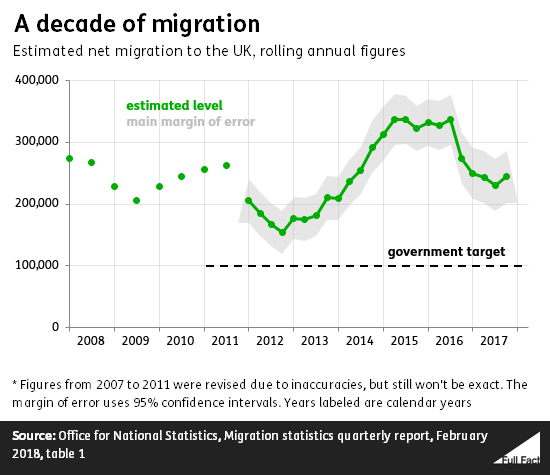 Net migration is the difference between the number of people immigrating to the UK in a year and the number of people emigrating abroad.
In order to meet the target the government would have had to reduce non-EU immigration heavily, because it can't control the scale of EU (including British) immigration to the UK due to the EU's rules on free movement. It made some early progress towards this in 2012 and 2013, but the numbers have risen back to roughly 2010 levels again.
So even without any EU net migration, the target would only have been met in parts of 2012 and 2013.
The government actually looked unlikely to meet the target as early as 2011, when its own impact assessments of its policies suggested reductions to non-EU immigration wouldn't be enough to meet the target. The Migration Observatory at the University of Oxford said at the time that "current policies can be expected to deliver about half the reduction in non-EU net migration required to achieve the tens of thousands target by 2015"—though it stressed there was a great deal of uncertainty to all of the estimates.
This factcheck is part of a roundup of BBC Question Time. Read the roundup.
With Brexit fast approaching, reliable information is crucial.
If you're here, you probably care about honesty. You'd like to see our politicians get their facts straight, back up what they say with evidence, and correct their mistakes. You know that reliable information matters.
There isn't long to go until our scheduled departure from the EU and the House of Commons is divided. We need someone exactly like you to help us call out those who mislead the public—whatever their office, party, or stance on Brexit.
Will you take a stand for honesty in politics?
---