"Does the Prime Minister agree that in a twenty-first century parliament the rules should not enable any member to speak for 58 minutes in a three-hour debate?"

Patrick Grady MP, 8 February 2017

"I have to say I find that a rather curious question from the honourable gentleman. Last night as it happens I was out of the house between the two votes. I switched on the BBC Parliamentary channel and I saw the honourable gentleman speaking, I turned over to something else, I switched back to the parliamentary channel, I saw the honourable gentleman still speaking..."

Theresa May, 8 February 2017
As Mr Grady says, he himself spoke for 58 minutes during last night's debate on leaving the EU. That's an unusually long time and some people consider it filibustering, or deliberately wasting time. He said it was in response to some of his SNP colleagues being unable to speak in the debate the night before because of lack of time.
Mr Grady didn't speak for 58 minutes straight but took short points from many SNP members, and some from other parties.
The SNP's overall share of speaking time during the evening increased from 13% to 18% compared to the previous day's debate.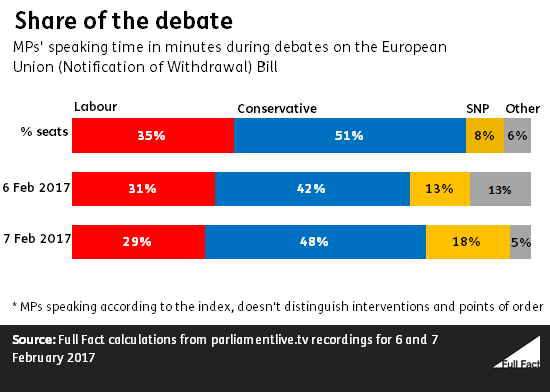 If the Chair or Speaker thinks an MP is straying off topic or simply repeating themselves they can cut them off, but the power is rarely used. The Chair did ask MPs yesterday to stay on topic. As the discussion was focused on the SNP's amendments it was within the rules, however long Mr. Grady spoke for.
A Commons committee has recommended recently that the system is changed to stop filibustering and give Private Member's Bills bills a better chance to become law.
This factcheck is part of a roundup of Prime Minister's Questions. Read the roundup.
Politicians shouldn't get away with misleading us—can you help?
As the UK's independent factchecking charity, Full Fact relies on our supporters' generosity to hold public figures to account and push for higher standards of debate.
But with a new prime minister on the way, and the possibility of a general election, we need your help more than ever to ensure that everyone can get the facts they need, on the issues that matter most.
---