Seven out of 11 papers lead today with at least some mention of last night's televised debate. We expect it to dominate much of today's election coverage.
Take a look at our analysis of 10 key claims from the night or see our Twitter feed if you missed our live tweets during the debate. We'll be taking a look at some of the claims we weren't able to immediately respond to today.
Thanks to everyone who shared our factchecks and everyone who wanted Full Fact on the show.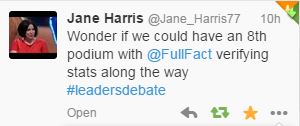 Isn't it nice to have the whole picture?
We rely on your donations to continue and grow our factchecking efforts - to help us maintain our independence we need 1000 donors to give £10 a month. We are currently at 607 - please help Full Fact grow.
---