5 key factchecks from David Cameron's Conservative party conference speech
1 October 2014
Here is our take on the key claims made by the Prime Minister today as he addressed his party conference.
 1. Three million people have been taken out of income tax altogether.
This year, 24 million people will pay the basic income tax rate - 3 million fewer than in 2010/11 (when tax levels were set by the previous government).
This was partly due to a yearly rise in the amount of income someone could receive annually without paying tax. However, some people will have moved tax band.
The total number of income taxpayers is 1.4 million less than in 2010/11, whereas the number of people in employment is up 1.6 million since the Coalition was elected in 2010, or 1.8 million from just before the election.
2. There is currently record employment and the party will achieve full employment.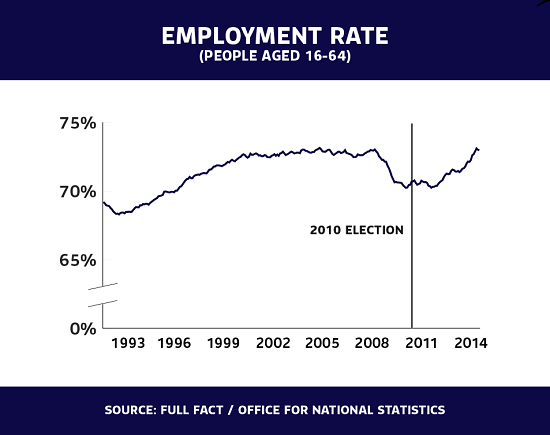 Earlier this year, the employment rate among the working age population (16 to 64) equalled the highest level ever recorded (73.1%). The most recent quarter's rate (73.0%) is higher than in 2010, which was in the middle of a recession.
However, this rate doesn't only include full-time employees. For example, it's also those on part-time and zero-hour contracts.
While it's correct to say that 73.1% is the record for the 16-64 age group, it's worth bearing in mind that the state pension age for women is increasing gradually from 60 in 2010 to 65 in 2018. So it's likely that any increase in the overall employment rate for 16- to 64-year-olds over this period will be partly due to a higher proportion of older women remaining in employment.
'Full employment' doesn't mean no-one is unemployed, it means that, of all the people who want a job, only about 5% don't have one. The current rate is 6%.
 3. The next Conservative Government will protect the NHS budget and continue to invest more. 
Maintaining funding in line with inflation might not be enough to protect services. According to NHS England, without efficiency improvements the increasing demand for services means it'll face a funding gap of £30 billion by 2021 even if the budget is protected in real terms.
Others have been more optimistic about how far efficiency savings could go, but there seems to be agreement amongst experts that it won't make up the whole shortfall. That'd mean that to keep NHS services at the same quality more funding beyond an increase with inflation would be needed.
4. We are going to balance the books by 2018, and start putting aside money for the future.
The Office for Budget Responsibility says the deficit on day-to-day spending is now expected to be eliminated by 2017-18 - a delay of three years on the government's original pledge.
On the other measure of the deficit, which includes long-term investments, we will be back in the black a year later in 2018-19. The government had originally pledged this would be 1% by 2015/16 - while recent forecasts suggest it will be larger at 4%.
5. We've capped economic migration from outside the EU.
In 2011 the government introduced an annual limit of 21,700 skilled non-EU migrants. This and other restrictions are expected to reduce net migration by about 11,000 in 2015 compared to what would have otherwise been the case.
The number of non-EU citizens overall who come to this country to work is at similar levels to 2010 - about 50,000 a year - although much lower now than in the mid-noughties.
The big riser since the election hasn't been non-EU migration though. Immigration from within the EU is rising and has been since 2012. Overall, net migration (the difference between immigrants and emigrants) is rising.