In brief
Claim
100 companies are responsible for 71% of global emissions.
Conclusion
Of the estimated greenhouse gas emissions from human activity (excluding certain sources like agricultural methane) between 1988 and 2015, 71% originated from 100 fossil fuel producers. This includes the emissions released when the fossil fuels they sold were subsequently used by their customers.
"But part of the problem is, when you know that 100 companies are responsible for 71% of global emissions…"

Adam Hills, 12 October 2018
We've been asked by a reader to factcheck this claim made on Channel 4's The Last Leg by the show's presenter, Adam Hills (it's about 33 and a half minutes in).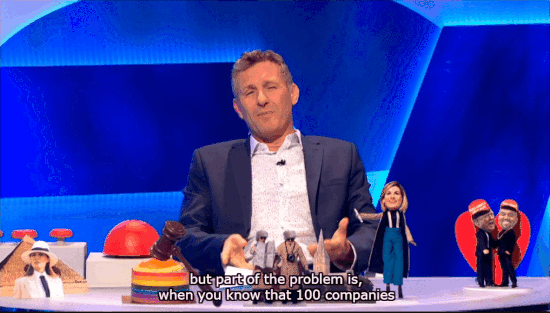 You may have also seen a similar claim floating about on social media, and it was widely reported by the press.
It comes from a report released last year, which said that 71% of greenhouse gas emissions from human activity could be traced back to 100 fossil fuel producers.
What does this actually mean?
The figure comes from a report by charity CDP (formerly the Carbon Disclosure Project), which works with companies to publish their environmental impact data for analysis.
Some producers (which may be companies like BP or state producing entities, like China or Russia) voluntarily give their emissions data to CDP, but for others, CDP use annual reports about their activities to estimate their emissions.
In the original press release accompanying the report, CDP said: "100 active fossil fuel producers including ExxonMobil, Shell, BHP Billiton and Gazprom are linked to 71% of industrial greenhouse gas emissions since 1988."
We asked it to clarify exactly what that meant.
They told us that of the total estimated cumulative greenhouse gas emissions released by human activity (excluding carbon dioxide from land use, land use change and forestry, and agricultural methane) between 1988 and 2015, 71% of those emissions originated from 100 fossil fuel producers. This includes the emissions from producing fossil fuels (like oil, coal and gas), and the subsequent use of the fossil fuels they sell to other companies.
Therefore, it might not come as such a surprise that these 100 entities are linked to 71% of human activity-related greenhouse gas emissions, since all 100 are fossil fuel producers.
Why do greenhouse gas emissions matter?
Human activity-related greenhouse gas emissions are responsible for the greenhouse effect.
The Earth's atmosphere is naturally made up of greenhouse gases, like carbon dioxide and methane, which trap heat from the sun causing a warming effect on the Earth below. A certain level of naturally-occurring greenhouse gases keep the Earth (on average) at a pretty hospitable temperature for life.
Burning fossil fuels, agriculture, and other industrial processes release extra greenhouse gases, and these trap extra heat close to the Earth's surface. That's caused global warming—a long-term warming of the planet. A symptom of this is that since 2001 we've experienced 17 of the 18 warmest years on record since records began 136 years ago.
Correction 2 November 2018
We amended the conclusion of this piece to say that fossil fuel producers sold fossil fuels rather than made them.
The integrity of our elections is in danger, and we need your help
You're probably here looking for facts. Thank you for that trust. But with the EU parliament elections on the way and more elections a possibility, we need to act now to make sure our elections are protected, before it's too late.
Could you help protect our elections by becoming a Full Fact donor?
Misinformation isn't new, but advancements in technology mean it can spread at an unprecedented scale. Our dangerously outdated election laws have not kept up with the digital age, putting our next elections at risk of abuse.
Currently, it's possible for a candidate to run a thousand different political ads to win the same seat, promising something different to each group it targets. At the same time, there's no law requiring those who publish online campaigns to disclose who they are or how they are funded. The opportunity for bad actors to manipulate election results is left wide open.
You may already know about our work to make public debate online more honest and transparent. Every day, we call out the most harmful misinformation on social media platforms when and where we see it. But right now, we're urging the government to overhaul our election laws to make sure political campaigning is held to the same level of scrutiny online as it is offline.
This work all depends on the generosity of hundreds of people who all believe that for democracy to work, we need transparency. Our monthly donors help strengthen our voice, and show our politicians that this really matters. Would you consider joining them?
Become a donor today to make sure our elections are protected.
---