Are 9 out of 10 people claiming benefits in parts of Scotland?
15 May 2012
Businessman Sir Tom Hunter sparked a debate about the 'benefits culture' north of the border over the weekend, when he claimed in his Sunday Times column that the Scottish welfare state's "pendulum of support has swung too far."
Subsequent articles in the Sunday Times and Mail on Sunday both pointed to one area of Glasgow as proof of this problem, claiming that in the Bridgeton area nearly 9 out of 10 people received some form of benefit:
"Astonishing figures from the Department of Work and Pensions reveal 85 per cent of working age adults in Bridgeton, in the city's impoverished east end, are claiming some kind of welfare payment." (Mail on Sunday, 13 May 2012)
 "[A]n area of Glasgow's east end is the benefits capital of Britain, with almost nine out of 10 working—age adults claiming some form of welfare payment." (Sunday Times, 13 May 2012)
But where has this data come from?
The Mail on Sunday refers readers to the Department of Work and Pensions as the source of its claim, while the Sunday Times doesn't name any source at all.
However when Full Fact contacted the DWP for more information we were told that the Department hadn't released any information on the topic, and is now attempting to contact the papers concerned to clarify its source.
Furthermore, we have found some evidence to suggest we should be cautious about this finding.
According to data accessible through the NOMIS statistics portal - figures which are held by the DWP - far fewer people may be claiming than was suggested in the Mail on Sunday and Sunday Times.
As at August 2011, it shows that just under 45 per cent of working age residents of Bridgeton were claiming the DWP-administered benefits. This is still much higher than the UK average of 12.3 per cent, but almost half the figure quoted in the two Sunday papers.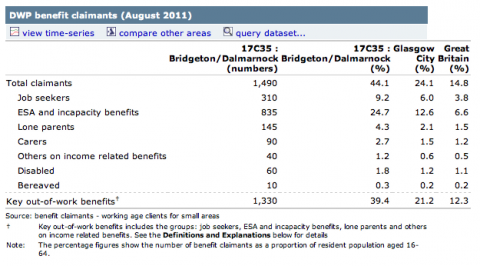 These figures will not entirely capture all the various types of benefit. For example, the tax credit system is operated by HM Revenue and Customs and so falls outside the scope of this data, as do pensions given to the retired.
However they may offer a more nuanced picture of the 'benefit culture' described by Sir Tom Hunter. Until the Sunday Times and Mail on Sunday can provide more detail on the source of their figures, we can't know for sure how accurate the '9 out of 10' claim is, but it isn't supported by the material we have seen.