Are sexually-transmitted infections soaring for the middle-aged?
3 February 2012
Today's Express presented readers with a startling headline:
VIAGRA-FUELLED OVER-45S ARE IN THE GRIP OF SEX EPIDEMIC
The story emantes from a press release from the Student British Medical Journal (BMJ), based on an article by Rachel von Simson and Ranjababu Kulasegaram about trends in the sexual health of older adults.
In the article, the authors cite research showing that 80 per cent of 50-90 year-olds are sexaully active. In addition, they point out that cases of many common sexually-transmitted infections (STIs) amongst the over 45s have more than doubled in the past ten years - a claim also featured in the Express.
However neither source was clear as to exactly which STIs they were referring to, how much the infections had risen by, nor how exceptional this was in the older age category. Full Fact decided to take a closer look.
Data on STI diagnoses from the Health Protection Agency provides figures, by age group, for cases of five different conditions: chlamydia, gonorrhoea, syphilis, herpes and warts (the specific types of which are explained in the data). The figures are provided in time-series between 2001 and 2010.
For chlamydia, cases for the over-45s have increased from 1,184 cases in 2001 to 2,812 cases in 2010, an increase of 138 per cent. Gonorrhoea on the same measure has increased by 14 per cent; syphilis has gone up by 337 per cent; herpes by 142 per cent and warts by 62 per cent.
The number of STI cases for over-45s across all five conditions has indeed increased by a substantial margin over the last ten years, in three cases more than doubling.
But is the 'sex epidemic' that the Express identifies limited to this age group, or are these trends occuring among younger people too?
Full Fact analysed the figures provided by the Health Protection Agency to determine the growth in cases among the over-45s compared to the overall growth in cases for all age groups. In order to account for demographic growth of the over-45 age group, we weighted the growth using population estimates from the ONS.
The results are as follows: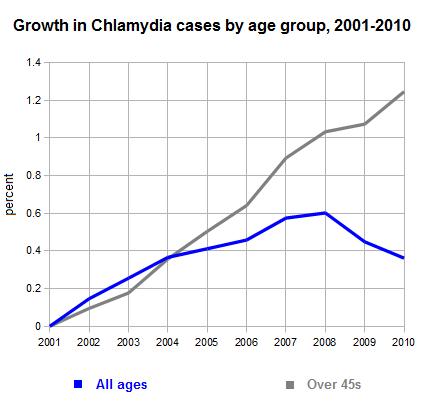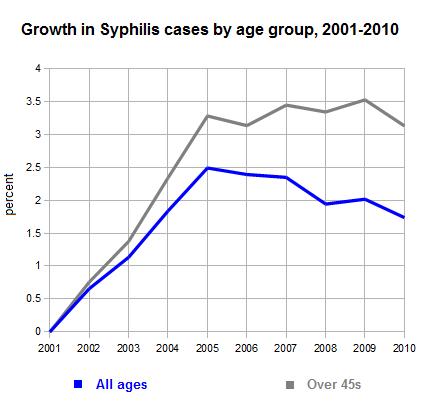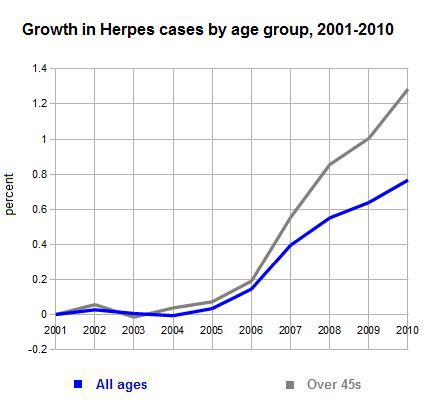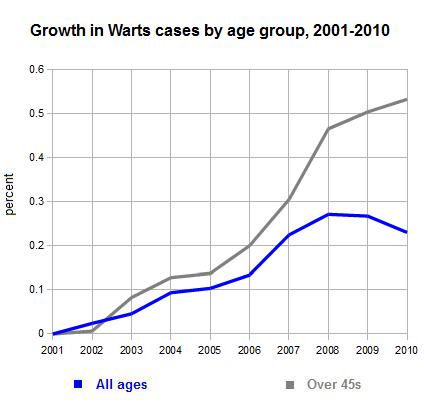 As can be seen, in all five conditions the growth in the number of cases involving over-45s has outstripped the total growth across all age groups. In the case of gonorrhoea, even a fall in the cases overall was paired with a small increase in cases amongst the over-45s.
The data suggests that the concerns highlighted about the sexual health of older adults compared to younger people is well founded.