Are tens of thousands dying from work every year?
11 September 2012
"Contrary to myths peddled by ministers, the UK is facing an occupational health epidemic. Over 20,000 people die every year as a result of a disease they got through their work and a further 1.9 million people are living with an illness caused by their work"
Trades Union Congress (TUC), 10 September 2012
In his leaving address at the TUC conference, TUC General Secretary Brendan Barber claimed "the UK is facing an occupational health epidemic."
Barber added in a press release "over 20,000 people die every year as a result of a disease they got through their work, and a further 1.9 million people are living with an illness caused by their work."
But where are these figures from?
Work-related deaths 
The Health and Safety Executive (HSE) publish a series of statistics on work-related death and injury.
However, the published figures on work related-deaths show 173 deaths in the workplace in 2011/12 - a far cry from the TUC's 20,000.
Digging a little deeper into the TUC's figures however reveals that, while the 173 figure tells us how many workers died in the workplace in the past year, it doesn't tell us how many people's lives were cut short as a result of their work.
The TUC broke down their own figures in their September 2010 report 'The Case for Health and Safety'. The following figures have been confirmed by the HSE:
- 8,000 deaths by occupational cancers. This figure emanates from a HSE report in 2005 which compiled a series of studies estimating the number of occupational cancer cases.
- 4,000 deaths by Chronic Obstructive Pulmonary Disease (COPD). The HSE cite an academic study in 2007 which established that 15 per cent of COPD cases can be attributed to the workplace.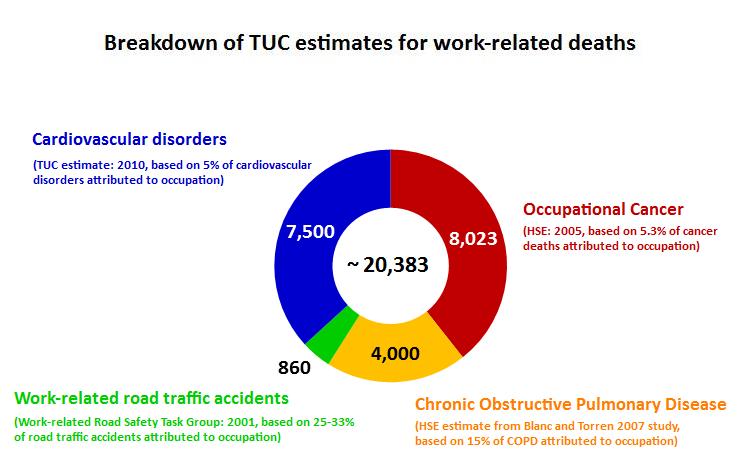 In its estimates, the TUC also includes work-related road deaths and deaths linked to cardiovascular diseases. 
The former is based on a 2001 report compiled by the independent Work-related Road Safety Task Group which concluded that "between a quarter and a third of all road traffic incidents involve someone who was at work at the time."
At the time, it was inferred that the range of fatal injuries was approximately 860-1130 a year. The TUC has lowered this estimate to 700 road deaths per year to fit with the recent decrease in road casualties. However, the number of reported road casualties for the year 2011 is 1,901 which would bring the estimate for work-related road casualties to approximately 475-627 a year if the rate remained constant.
As for the deaths by cardiovascular diseases, estimated to be around 7,500, the TUC has calculated that 5% of all deaths caused by health and circulatory problems are caused by work.
The TUC informed Full Fact that this 5% assumption was a conservative estimate, and based on, among others, studies in the British Medical Journal which established high risks of cardiovascular disorders in workers with a high jobs strain. 
However it isn't immediately clear how this supports the assumption, so we're awaiting further clarification from the TUC.
Work-related illnesses
The figure of 1.9 million quoted by the TUC is derived from the Labour Force Survey and published in full by the Health and Safety Executive.   It's worth bearing in mind that figures on illnesses are derived from self-reporting via the Labour Force Survey, and so could present a significant variation in the actual 'illnesses' suffered (the difference between typing cramp and breathing difficulty, for instance).   The
most recent figures on work-related illness
from the HSE confirm that the prevalence (new cases of illness plus pre-existing cases) of work-related illnesses totalled 1,152,000 in 2010/11. This applies only to people who have worked in the last 12 months, and accounts for 1.2 of the TUC's 1.9 million.   The remaining 700,000 people are
separately counted by the HSE
 and represent those who have not worked in the past 12 months, and yet who have self-reported suffering from ill-health due to their previous work conditions. These are represented by the blue section of the below chart from the HSE: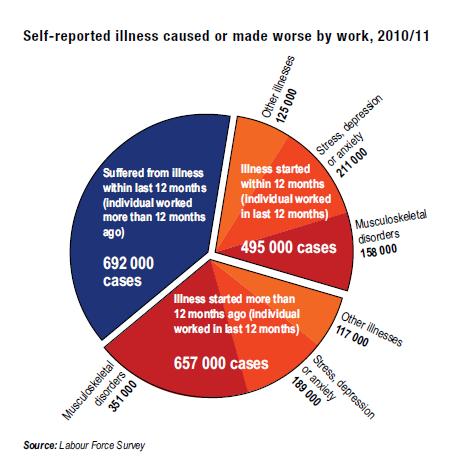 So the TUC's figures are based on 1.9 million people who self-report suffering from an ill health condition which they consider to be caused or made worse by their current or previous work.   While the numbers themselves match up, this doesn't quite support Brendan Barber's statement that "1.9 million people are living with an illness caused by their work" because it is a self-reporting sample that only establishes what respondents 'consider' to be caused 
or made worse 
by their current or previous work.  
Conclusion
We're still waiting for some clarification from the TUC regarding their estimates on cardiovascular disorders, which account for 7,500 of their estimated deaths. This is a significant proportion and one we look forward to clearing up.   The remainder of the 20,000 deaths a year can be backed up by various sources which are also cited by the Health and Safety Executive themselves. It has to be borne in mind that these are disparate and based on studies conducted at different times.   The 2001 road accident estimate, for instance, is based on dated road accident data that doesn't reflect the current number of accidents on the roads, although we can't tell whether the proportion of these accidents attributable to the workplace will have changed and by how much.   However, the HSE themselves stand by their figures for occupational cancer and COPD deaths and informed us the estimates were still applicable to the present day.    On ilnesses, the TUC has quoted the figures themselves correctly, but have probably overstated their case considering the fact they are based on a self-selecting survey.