This graph is a favourite of the Department for Work and Pensions, and routinely takes the top spot on the department's own website when employment figures come out: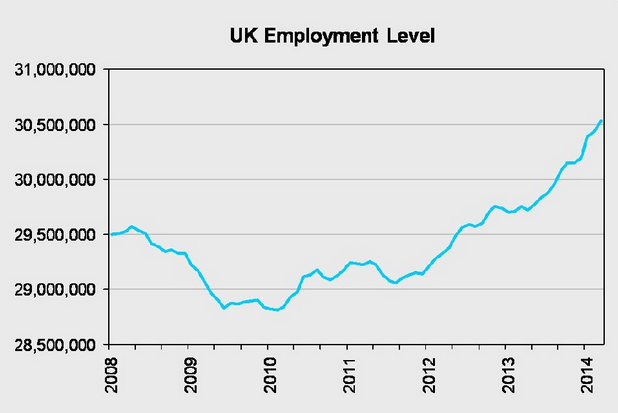 It's perfectly accurate, but accuracy on its own isn't enough to communicate the information well. It's bad at giving context; it's bad at reflecting the scale of the changes, and its not a particularly helpful measure anyway for assessing any government's record on employment compared to another.
Employment almost always rises, in part because the population's rising as well. The dip at the start of the government's graph coincides with the recent economic downturn, but before that numbers in work were growing fairly steadily. What is new is that - compared to the previous three months - employment is rising faster than it has done before, and the employment rate - the proportion of working-age people in work - is close to record levels.
Choosing such a restricted scale isn't always wrong because detail can be useful. Here, though, it doesn't hurt to provide a little context: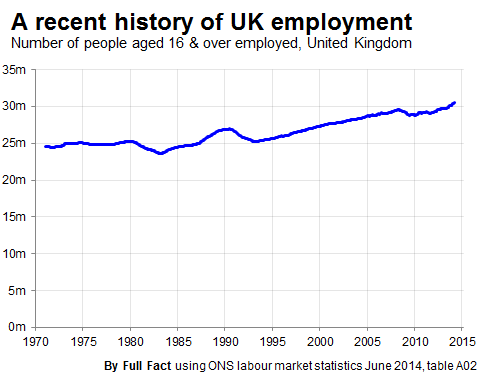 Better still, provide context and detail at the same time: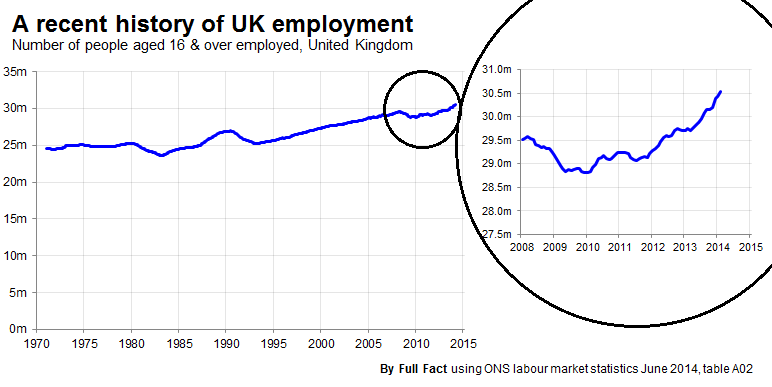 Update 
All that talk about context, another tip is to get the units right. We've updated our graphs from showing 'thousands' to 'millions'.
With Brexit fast approaching, reliable information is crucial.
If you're here, you probably care about honesty. You'd like to see our politicians get their facts straight, back up what they say with evidence, and correct their mistakes. You know that reliable information matters.
There isn't long to go until our scheduled departure from the EU and the House of Commons is divided. We need someone exactly like you to help us call out those who mislead the public—whatever their office, party, or stance on Brexit.
Will you take a stand for honesty in politics?
---