BBC Question Time: Recap and Factcheck
19 October 2018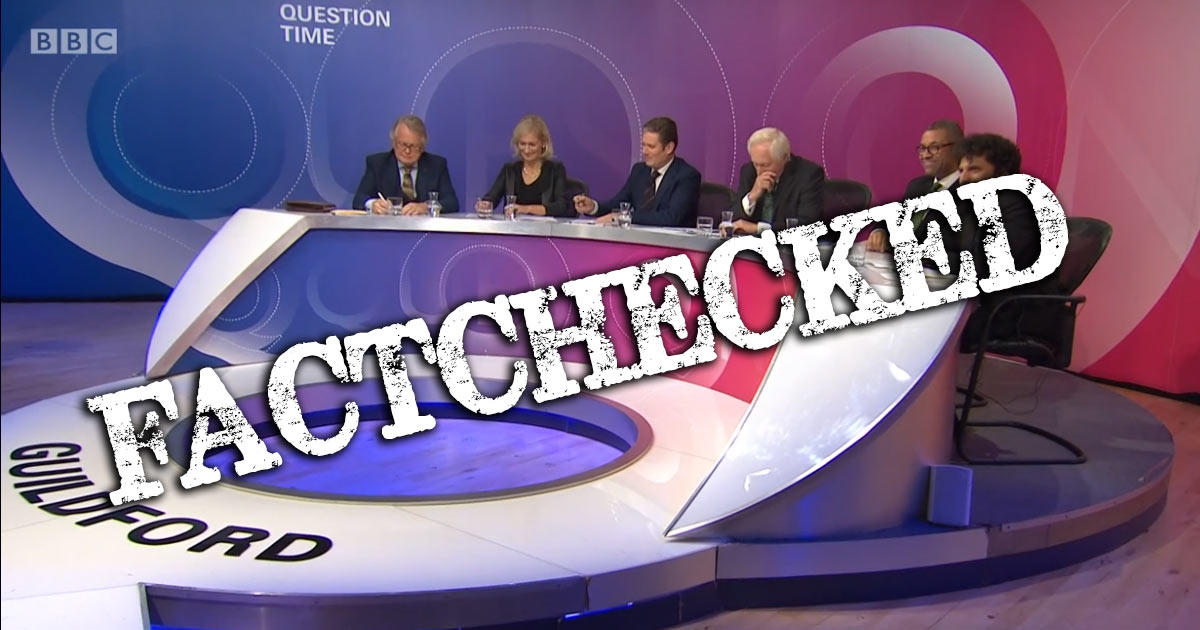 This week's Question Time came from Guildford, in Surrey. It's fair to say that this wasn't the most claim-filled show we've ever seen, but there were still some interesting debates to dive into. A discussion on trans rights, in particular, stood out for both the panelists and audience constructively engaging with one another. Many viewers may have learned something new from the discussion, and our summary has it covered too.
Topics covered this week were the suspected killing of Saudi Arabian journalist Jamal Khashoggi and the sale of British arms to Saudi Arabia, Brexit (as usual), trans rights and the Gender Recognition Act, and Dame Laura Cox's report on bullying and harassment in the House of Commons.
On the panel this week were deputy chairman of the Conservative Party James Cleverly, shadow Brexit secretary Keir Starmer, comedian and TV presenter Nish Kumar, author and former adviser to Margaret Thatcher, Michael Dobbs, and editor of the Economist Zanny Minton Beddoes.
Obscure fact about Guildford tangentially related to politics: The first recorded instance of cricket taking place in England refers to a game in Guildford (which would have occurred around 1550). That's related to politics because former-Prime Minister John Major wrote the book in which we discovered that fact. His 1997 resignation speech ended with his hope that he'd get "to get to The Oval in time for lunch and for some cricket this afternoon".
Honesty in public debate matters
You can help us take action – and get our regular free email
Question 1: The UK and Saudi Arabia
The first audience question didn't pull any punches: "Are we ok with state sponsored murder, provided the killers are our loyal customers?". That refers to the suspected killing of the Saudi Arabian journalist, Jamal Khashoggi, who was last seen entering the Saudi consulate in Istanbul earlier this month.
During the discussion, Nish Kumar said "our attitude to Saudi Arabia has been baffling… we continue to deal with [Saudi Arabia] as trading partners and we continue to sell them weapons." This was shortly followed by a member of the audience asking "Can we be happy that the weapons used in the Yemen war may be of US or UK manufacture?" In 2017 the UK imported £2.8 billion of goods and services from Saudi Arabia and exported £6.2 billion.
Between March 2015 (when the civil war in Yemen began) and March 2018, the UK government licensed the sale of at least £4.7 billion of military equipment (referred to as "arms") to Saudi Arabia. Saudi Arabia is currently leading a coalition of states against the Houthi movement in Yemen (which took control of the Yemeni capital and forced the government to resign). The UK has licensed sales of a further £860 million of arms to Saudi Arabia's coalition partners. Not all arms licences are costed, so the above figures are an underestimate. We've written more on this here.
Keir Starmer then claimed that "In Saudi Arabia there's been, I think it's 147 beheadings last year."
There are no official figures published on this, but according to Amnesty International there were 146 executions in Saudi Arabia in 2017. Amnesty's data collection on executions across the world is based on multiple sources, including official figures, judgments, family testimony, and media reports. It says that "with only a few exceptions, Amnesty International's figures on the use of the death penalty are minimum figures. The true figures are likely to be higher."
144 of those executed were men and 89 were citizens of Saudi Arabia. 78 executions were for murder and 59 were for drug-related offences. Amnesty also says that beheading is the most common form of execution in the Kingdom.
Question 2: Brexit negotiations
Next came the now obligatory Brexit question: "Based on recent developments over the last couple of years, do you believe the United Kingdom will ever leave the EU?" James Cleverly was unambiguous: "We will be leaving in March of next year." David Dimbleby decided this was worth a bit more probing: "Hang on a second. We'll be leaving and then that's it? What's this extension by a matter of months thing—what's that?" Then followed a classic exchange:
Cleverly: "That's ideas about the implementation period."  
Dimbleby: "Yeah, have we left when we're still implementing?"
Cleverly: "Yes you've left. We've left. We've left. We've left".
Dimbleby: "But you're still paying money in?"
Cleverly: "No we've left. We've left. We've left."
So will we have left the EU in March 2019? Technically yes, but it might take longer than that for our relationship with the EU to actually change substantially.
We formally leave the EU at 11pm on 29 March 2019. This date is set by the terms of Article 50 of the EU's Lisbon Treaty. We triggered a two-year process for formally leaving the EU in March 2017. (It's theoretically possible that a new agreement between all current EU member countries in the coming months to push that date back, but it doesn't seem to be a proposal being considered.)
But our relationship to the EU when we leave next March is not what the government intends it to be further down the line. Once we leave next March, there is a proposed "transition period" during which we remain aligned to many of the EU's structures, giving us more time to negotiate a trade deal which will define our future relationship. The government wants that future deal to involve being outside of the single market and customs union. The transition period is proposed to last until 31 December 2020.
However, the withdrawal agreement, which would be the legal basis for the transition period, is yet to be signed by the UK and EU. As part of continued negotiations to try and reach a UK-EU agreement on the withdrawal agreement, Theresa May has suggested the transition period could be extended by a "matter of months".
This is an idea, and does not amount to formal British policy, or a finalised agreement. The UK is committed to paying into EU budgets up to 2020 as part of it's "divorce bill", but that's based on outstanding commitments to the EU's 2014-2020 budget.  
David Dimbleby and Keir Starmer also clashed on what people were told about single market and customs union membership during the EU referendum. Mr Dimbleby commented: "Nigel Farage said yesterday that when the question was put at the referendum, it was made clear that it meant leaving the single market and leaving the customs union."
Key figures from both the Remain and Leave campaigns said before the referendum that voting to leave meant leaving the single market, and also implied this meant the customs union too (they're not the same thing).
Most notably, the then Prime Minister David Cameron said before the vote "The British public would be voting if we leave would be to leave the EU and leave the single market". Leave campaigners Michael Gove and Boris Johnson made similar points, apparently drawing a distinction between being "part of" the single market and simply having "access to" it (a distinction with a meaning that was possibly unclear).
Some people have pointed out cases where other Leave campaigners appeared to suggest the UK should stay in the single market. These aren't all necessarily as straightforward as they look.
Although at the very least, it's easy to see why the messaging would have been confusing to many people.
The public don't unambiguously see it that way either: some opinion polls suggest that people are divided or unsure about whether being part of the single market or customs union would be acceptable and honour the referendum result. As ever, polling findings need to be interpreted with some caution.
We've published a full factcheck here.
Towards the end of what was quite an attritional discussion, James Cleverly got pulses racing by saying "The Labour party have had more positions on Brexit than the Kama Sutra". That's not a checkable claim, but for what it's worth, according to Paul Sinha from The Chase, there are 64 positions in the Kama Sutra.
Question 3: Trans rights and the Gender Recognition Act
Matters then turned back to domestic policy, as an audience member asked: "Has the debate over proposed changes to the Gender Recognition Act turned toxic?"
A bit of context might be helpful here. The Gender Recognition Act was originally passed in 2004 and allows people to apply for a Gender Recognition Certificate which allows them to legally change genders.
In order to be granted a certificate the person applying must 18 or over, have been diagnosed with gender dysphoria (the NHS describes this as "a condition where a person experiences discomfort or distress because there's a mismatch between their biological sex and gender identity"), and intend to live in their acquired gender, which they wish to legally change to, for the rest of their life.
Under the "standard" process, they must also have lived in their acquired gender for at least two years.
Right now the government is holding a consultation on reforming the rules around the process. It says "This consultation seeks views on how the Government might make it easier for trans people to achieve legal recognition. The way this has been achieved in some other countries around the world is to remove the requirement for a medical diagnosis and to streamline other parts of the process.
This is one option that the Government wishes to ask for views on but no firm decisions on our eventual approach have been taken." The consultation closes today.
In the course of discussion, one audience member asked the panel whether there were any statistics on the size of the transgender community.
According to the government "No robust data on the UK trans population exists." The Office for National Statistics, one of the main producers of statistics about life in the UK, is in the process of working to collect data about gender identity. Charities like Stonewall, also conduct surveys with transgender people, as it does with other groups it represents, to get information about their experiences.
The government "tentatively" estimates that there are between 200,000 and 500,000 transgender people in the UK. That's based on assuming that between 0.4 and 1% of the population is trans, which is in turn based on international evidence and data analysed by the Gender Identity Research and Education Society.
Since the Gender Recognition Act was became law in 2005, over 4,900 Gender Recognition Certificates have been issued to people in order for them to legally change their gender.
Following immediately on from that another audience member added that "Well I know that the number of people who are intersex, which isn't quite the same, is the same as the number of people who have ginger hair, so it's probably more prevalent than you think."
As far as we can tell this claim may originate from a video interview with intersex teenagers by Teen Vogue. It's hard to say definitively how accurate it is—partly because the definition of what counts as intersex is debated (as is the definition of what counts as ginger, if we're honest.)
We also can't find any reliable estimates of the prevalence of red hair worldwide. However, a figure of between 1% and 2% of the global population being ginger is commonly cited, while the highest regularly cited figure for the prevalence of intersex conditions puts it at 1.7%, so there is certainly some basis for the claim.
There are a wide variety of conditions that may be counted as "intersex" (some medical bodies use the term "disorders of sex development"). These can range from having sexual organs that are "ambiguous" or do not match the person's chromosomal sex, to less visible discrepancies between sexual characteristics (some of which may never be diagnosed, or only discovered later in life).
The figure of 1.7% of people having intersex conditions comes from work by the biologist Anne Fausto-Sterling; it is based on a wide definition of intersexuality, one in which the person's combination sex chromosomes, genitals, gonads and hormones does not fit with the "Platonic ideal" of male or female (a definition that some have argued is too broad.)
Rounding off this section, Zanny Minton Beddoes said that "...we need as much study as possible on the impact on children. We are seeing a very big rise in gender dysphoria... we have younger and younger ages when people are undergoing irreversible medical treatment and I think as a society we should have a conversation about that."
It's true that there has been a major increase in the number of referrals to the Gender Identity Development Service based at the Tavistock Clinic in London, which is the NHS's main gender identity service for children and adolescents.
A rise in referrals doesn't necessarily indicate a rise in how many young people have gender dysphoria. It may reflect greater awareness of these issues, resulting in more people seeking assistance.
The number of referrals has risen from 97 in 2009/10 to 2,519 in 2017/18, although the rate of increase has slowed slightly over the past two years.
The director of GIDS, Dr Polly Carmichael, said in a statement earlier this year that "there is no single explanation for the increase in referral figures", but cited growing "acceptance and recognition of transgender and gender diverse people in our society" and "greater public knowledge about specialist gender clinics" as possible factors.
However, the claim that "we have younger and younger ages when people are undergoing irreversible medical treatment" is on less solid ground.
While the absolute number of children being referred to the GIDS clinic has increased, the percentage of referrals who are young children has actually dropped in the past nine years. In 2009/10, 24% of referrals to the clinic were aged under 12; in 2017/18 that figure was down to 10%.
The question of what counts as "irreversible medical treatment", and when treatments should be available to adolescents, is also contested: we will publish a longer factcheck on this issue later. However an audience member, who was themselves trans, was broadly accurate when they said: "Regarding children and having hormone replacement therapy, they don't have it until they're at least 16.. Any blockers that are required, testosterone blockers for example, they only have them when they're nearing puberty. There's no operation that takes place until they're 18."
That is what the current NHS guidelines state.
Question 4: Bullying and harassment in parliament
Following the extended discussion of trans rights, there was only five minutes left for a fourth question, on whether on ensuring a good Brexit is more important than addressing the bullying culture in parliament. This relates to the report published this week by High Court judge Dame Laura Cox. In the report she describes "a culture (in the House of Commons), cascading from the top down, of deference, subservience, acquiescence and silence, in which bullying, harassment and sexual harassment have been able to thrive and have long been tolerated and concealed."
She also identifies "a culture that has actively sought to cover up such abusive conduct" and "a palpable lack of protection for individuals reporting such abuse"
The audience member's question was a response to comments by Dame Margaret Beckett that while behaviour in the Commons should change, Brexit issues "trump bad behaviour". She concluded now is not a good time to confront the bullying issues by changing the Speaker of the House of Commons, despite the report's suggestion that change in leadership is needed within the Commons.
The panellists generally agreed that the report made for shocking reading. As Zanny Minton Beddoes put it: "it says very clearly in the report it is a culture kind of led by the top and condoned by the top. And therefore you're going to have to have change at the top to change that culture".
Among the conclusions of the report, Dame Cox states: "I find it difficult to envisage how the necessary changes can be successfully delivered, and the confidence of the staff restored, under the current senior House administration."
Update 22 October 2018
We've updated our section on estimating the size of the transgender population in the UK after the government provided more detail on how it came to a figure.