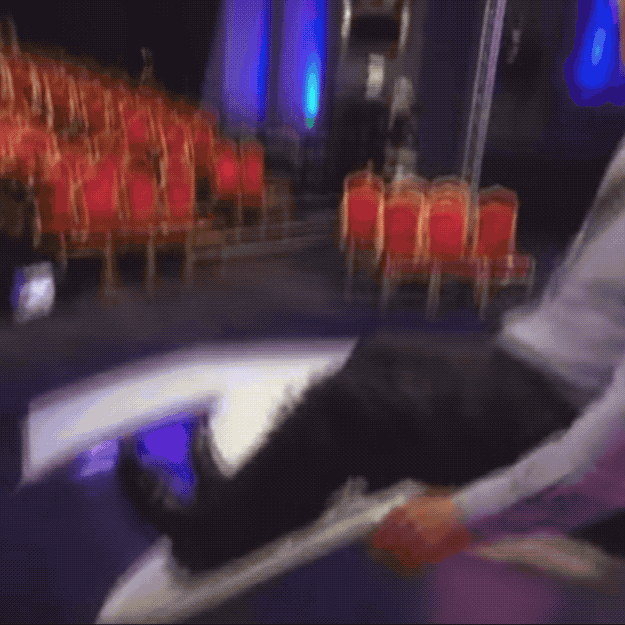 And so, after decades, the UK's relationship with an enduring institution comes to an end. No transition period; no possibility of an extension. A hard, cliff-edge Dimblexit.
Yes, this was David Dimbleby's final episode of Question Time, after 25 years and (we think) 915 episodes. In that time he has missed only two episodes of the show, and one of those times was because he had been knocked unconscious by his wife's bullock.
During his tenure he has ascended to something close to national treasure status―even having his own weird parody Twitter account. Pleasingly, just before his last show, Bio-Dimbleby finally met Dimblebot.
If there is one thing we will remember about David Dimbleby above all else, it is his fantastic selection of ties. Please enjoy this brief history of the evolution of Dimbleby tie choices throughout the years.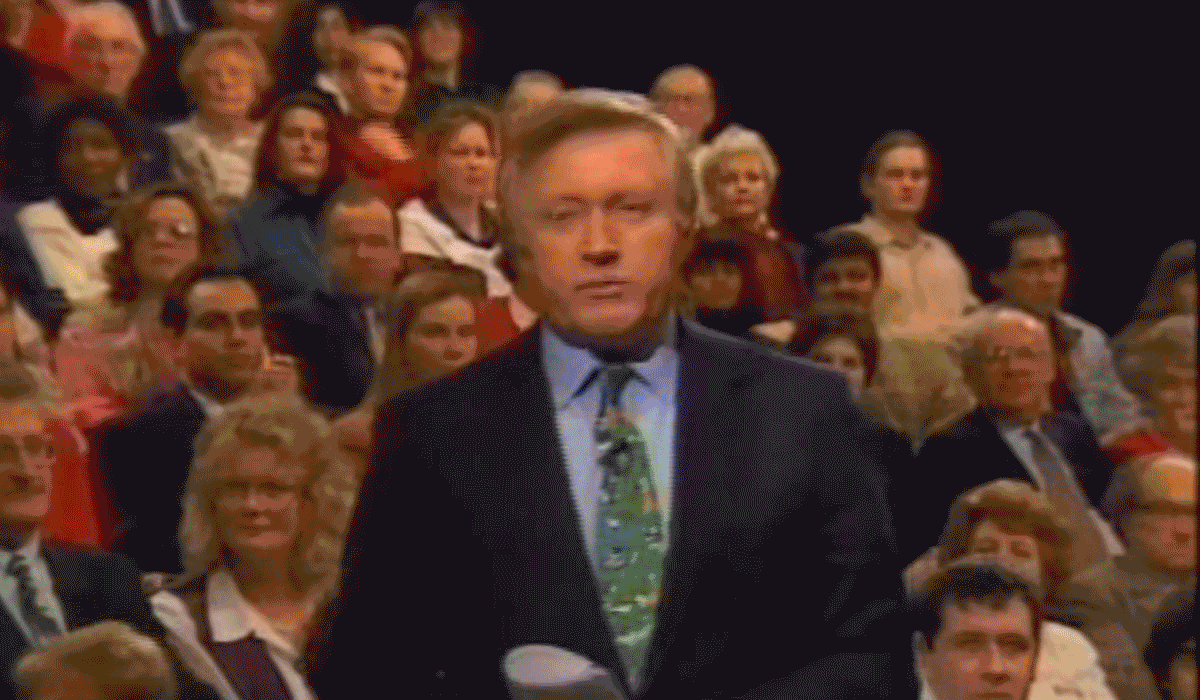 Anyway, onto business. This week's epochal Question Time came from the London borough of Southwark.
The topics covered this week included: Theresa May's prime ministership, Brexit, more Theresa May, more Brexit, and whether comedians should be offensive.
On the panel this week were: Conservative former Brexit Secretary David Davis (who opposes the prime minister's deal), Conservative former Education Secretary Nicky Morgan (who backs the prime minister's deal), Labour shadow Education Secretary Angela Rayner, Green Party MP and former leader (twice) Caroline Lucas, and comedian Jo Brand.
Obscure fact about Southwark that is only tenuously related to politics: in 1850 the notoriously brutal Austrian general Julius Jacob von Haynau was taking a holiday in London when he decided to go on a brewery tour. Easily recognisable due to his remarkable facial hair, he was confronted by an angry mob outside the brewery on Park Street in Southwark, who shouted "Down with the Austrian butcher", dropped a bale of hay on his head, and forced him to try and hide in a bin, before police finally managed to rescue him by sneaking him out of a pub disguised in the landlady's hat. This is today marked by a plaque on Park Street that says "an international incident occurred here", and shows a picture of two men hitting Haynau with sticks.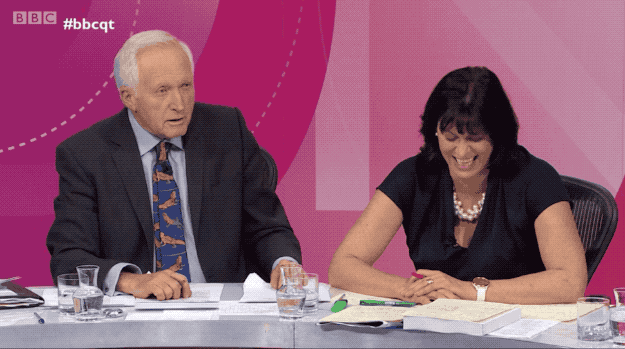 Question 1: Theresa May
The first question was "Will Theresa May be having lame duck for Christmas?" The panel discussed their opinions of Theresa May, following her victory in the Conservative party no confidence vote this week. There weren't really any factual claims we could check in this section.
Question 2: more Theresa May
Things got slightly more facty in the second question, which continued the theme by asking "Would another leader of the Conservative party actually be able to achieve anything different to the Prime Minister?"
Talking about his favoured Brexit options, David Davis said: "already 60% of our trade is with the rest of the world and it is the fastest growing bit", with Angela Rayner adding some time later that "44% of our trade is within Europe, that's billions of pounds and we need to secure those jobs and secure our economy into the future."
Angela Rayner correctly quotes the figures for 2017. Since newer figures were published for the start of 2018, that picture has changed very slightly.
About 46% of the UK's exports in the year to June 2018 went to the rest of the EU, while 54% went to the rest of the world. EU exports were worth roughly £290 billion out of a £630 billion total. That percentage has declined over the long term, as EU exports used to account for most of the UK's exports.
That means David Davis's 60% figure is a little too high, though he is right that the EU's average economic growth is slower than the average across the world. That's according to data from the International Monetary Fund.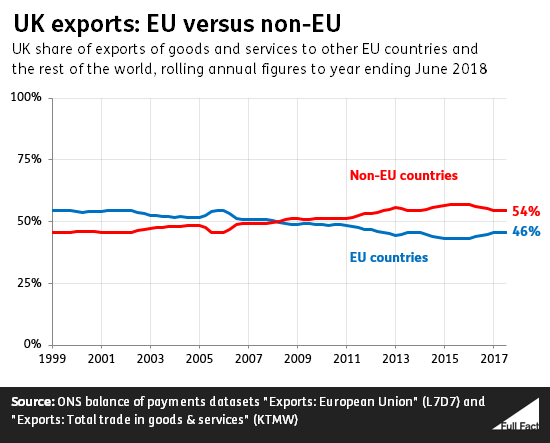 Nicky Morgan argued that it's possible to increase our levels of global trade while remaining in the EU, pointing to Germany as an example: "You talked about the rest of the world trade, how come Germany does more trade with China than we do?"
That's correct. Germany exported around £75 billion worth of goods and services to China, and imported around £89 billion from China in 2017 (based on exchange rates for 2017). The UK exported around £22 billion worth of goods and services to China, and imported around £45 billion in the same year.
China was Germany's third biggest export partner, and biggest import partner. China was the UK's sixth biggest export partner, and fourth biggest import partner.
An audience member said: "At least 35% or so of the GDP comes from financial services." To which Nicky Morgan responded "You are right, 80% of our economy is services, of which financial services is a part."
Nicky Morgan is right, but the audience member seems to have significantly overstated the figure for financial services. Services as a whole accounted for 79% of the UK's economic output in 2017, according to figures from the ONS. Financial services specifically accounted for 6.5% of total economic output in that year (down from a peak of around 9% in 2009). The production sector accounted for 14% of economic output, construction for 6% and agriculture for 1%.
Question 3: Brexit
The third question kept up the flow of Brexit-related content, asking the panel "Would you consider a second (and better informed) referendum the most democratic way forward?"
In discussing why she backs a second EU referendum, Caroline Lucas suggested that such a referendum would be "the first opportunity to have a vote based on the facts … all of us know so much more now that we did two and a half years ago". Dimbleby pushed her on this: "What are these new facts that you've discovered that weren't known before?"
Caroline Lucas responded: "Well, I don't think we were expecting to be stockpiling food already before we've even left. I don't think we were going to be expecting to turn the M20 into a car park, for lorries that were going to go back for 20 miles. I don't think we thought that we'd be paying £500 million, I think it is, a week already in terms of lost growth as a result of what happened two and a half years ago."
In July, a committee of MPs asked the then-Brexit Secretary, Dominic Raab, if the government was stockpiling food in case there was a no deal Brexit. Mr Raab responded: "we will look at this issue in the round and make sure that there is adequate food supply", adding "it would be wrong to describe it as the Government doing the stockpiling".
Last month, Nestlé told another committee of MPs that it had recently begun "stock-building to an extent on products that we need to import into the UK".
Back in July it was also reported that plans were being made for a 13-mile "lorry park" on the M20 in the case if a no-deal Brexit, known as "Operation Brock". A Dover Council assessment released under a Freedom of Information request said: "A 13-mile stretch of the coast-bound section of the M20... will be earmarked to hold heavy goods vehicles, in what will effectively become a giant temporary lorry park holding around 2,000 lorries."
We're going to look in more detail at Ms Lucas' claim about paying £500 million a week for Brexit.

Saying that she respected why Leave voters made the choice they did, Caroline Lucas then said: "The commission on social mobility … looked last year at the 30 places for the worst social mobility, and every single one of those voted to leave."
That's correct, but the social mobility data only ranked areas in England so we don't know whether places with low social mobility in Wales, Northern Ireland or Scotland also voted to leave, on this measure.
The Social Mobility Commission ranked all local authority areas in England and found the 30 authorities with the lowest score all voted to leave the EU.
In contrast 24 of the top 30 most socially mobile areas in England voted to remain in the EU.
The social mobility scores are arrived at by taking into account things like how many children are eligible for free school meals, local school ratings and how many low paid jobs there are in an area.
Discussing his belief that the downsides of Brexit had been overstated, David Davis said: "Actually, the Treasury forecast and the Bank of England forecast said that we'd lose hundreds of thousands of jobs, that we'd have negative growth in the last two years, that's even after the referendum."
Treasury analysis in May 2016 suggested that in a 'shock' or 'severe shock' scenario following a vote to leave the EU, the number of unemployed people would be between 520,000 to 820,000 higher by June 2018, and GDP would be around 4 to 6% than if the UK voted to remain in the EU. It said in "both scenarios, a vote to leave the EU would result in a recession" (two or more quarters of negative economic growth).
In the two years to April to June 2018, the number of unemployed people (who were actively seeking work) in the UK aged 16 or over decreased by around 280,000. At the same time GDP grew by around 3%.
Just before the referendum the Bank of England said that "A vote to leave the EU could materially alter the outlook for output and inflation… lowering labour demand and causing unemployment to rise." It also said that there were "a range of possible scenarios" surrounding a leave vote, and these could "possibly include a technical recession".
Just after the vote to leave the Bank of England revised its forecasts for economic growth downward—meaning it expected the economy to grow more slowly in 2017 than it had previously assumed.
Of course, we'll never know for sure what would have happened to the economy and employment if there hadn't been a referendum and if the UK hadn't voted to leave the EU.
Mr Davis then said: "We have the highest employment ever, the lowest unemployment in my life."
Around 76% of all 16 to 64 year olds were in work, as of August to October 2018. That's the highest rate since comparable records began in 1971.
At the same time the unemployment rate was 4.1% (that's as a percentage of everyone over 16 in work or looking for work). That's the lowest it's been for around 40 years, but it was lower during parts of the early 1970s, a time during which David Davis was alive.  
Jo Brand said "I want to say that after we voted to leave, I kind of felt embarrassed and ashamed about the increase in racist incidents in the country."
While there's no way to know exactly how many racist incidents are happening across the country, the Home Office has said there was a "clear spike in hate crime" in England and Wales around the time of the EU referendum, based on cases that came to the attention of the police.
Hate crimes are defined as "any criminal offence which is perceived, by the victim or any other person, to be motivated by hostility or prejudice towards someone based on a personal characteristic."
Most (76%) of all hate crimes reported to police are based on race. These figures don't necessarily show the full picture as they will only capture crimes reported to police, and improvements in police recording also affect them in the longer term. You can read more about how hate crimes are measured here.
Jo Brand talks about an increase in racist incidents following the EU referendum on #bbcqt There was a "clear spike in hate crime" around the time of the EU referendum, according to the Home Office https://t.co/VuaSGn35HT pic.twitter.com/dwodJbnA5O

— Full Fact (@FullFact) December 13, 2018
There was also an increase in the number of racially or religiously aggravated offences around the time of the referendum. These are a narrower subset of hate crimes. These were 44% higher in July 2016, following the referendum result, than the same month the year before.
Question 4: Brexit deals
Question 4, "What would it actually take for Corbyn to vote for Mrs May's deal?", returned us into the land of people saying their opinions about Brexit but not really making any claims of the kind we can check. Let's move swiftly on.
Question 5: Comedy contracts
And so on to the final question, the last question of Dimbleby's glorious reign, turned out to be... "Is it realistic to expect comedians to sign behavioural contracts or should comedy be free from censorship?" It came after news reports of a comedian refusing to sign an agreement with a student body who'd invited him to charity gig that his set wouldn't include "racism, sexism, ageism, homophobia, transphobia, xenophobia, anti-religious, anti-atheism".
The panel basically agreed with Jo Brand, who said that while the students were "well meaning", comedians should be able to "do a joke about anything".
David Davis wrapped things up by noting that "I certainly don't have any jokes about Brexit", which prompted David Dimbleby―demob happy and with very nearly his parting shot―to drop the following burn: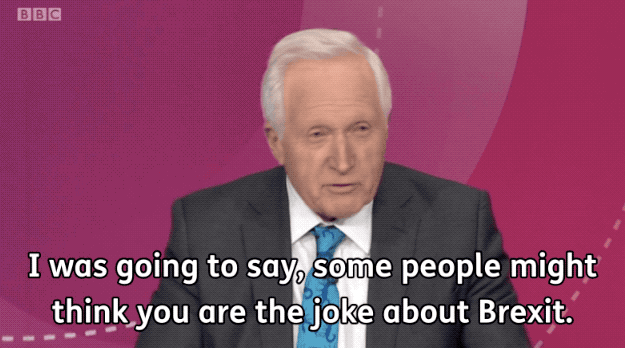 Fans who had been hoping for a scene where Mr Dimbleby regenerated into Fiona Bruce were left disappointed, as Mr Dimbleby then said his farewells in a typically calm and modest manner, and received a standing ovation from both the panel and the audience: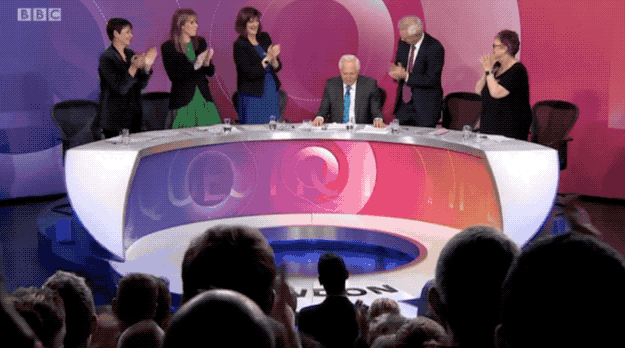 You can watch his full farewell address below. It's very nice.
'From me, a happy Christmas and not goodbye, but goodnight'
David Dimbleby receives a standing ovation from the panel and audience as he says goodbye to BBC Question Time after 25 years. #bbcqt #dimblebye pic.twitter.com/3ldAPY6STR

— BBC Question Time (@bbcquestiontime) December 13, 2018
And with that, a professional to the end, he signed off. As shall we.
With Brexit fast approaching, reliable information is crucial.
If you're here, you probably care about honesty. You'd like to see our politicians get their facts straight, back up what they say with evidence, and correct their mistakes. You know that reliable information matters.
There isn't long to go until our scheduled departure from the EU and the House of Commons is divided. We need someone exactly like you to help us call out those who mislead the public—whatever their office, party, or stance on Brexit.
Will you take a stand for honesty in politics?
---