How do you know whether to be impressed by a budget announcement? It isn't as hard as it seems. Simply asking whether a number is really that 'big' can help us understand how impressive a budget announcement really is.
There are two ways of doing a quick check: first, how does the number compare to government spending overall? Second, how much money is it per person? Here are the numbers to help provide that sense of scale, or scroll down to use our calculator tool.
A drop in the ocean?
Last year, for instance, the Government pledged £2 billion extra funding for a Green Investment Bank, and £100 million for pothole repair. But let's see how these kinds of projects compare to the Government's more hefty price tags: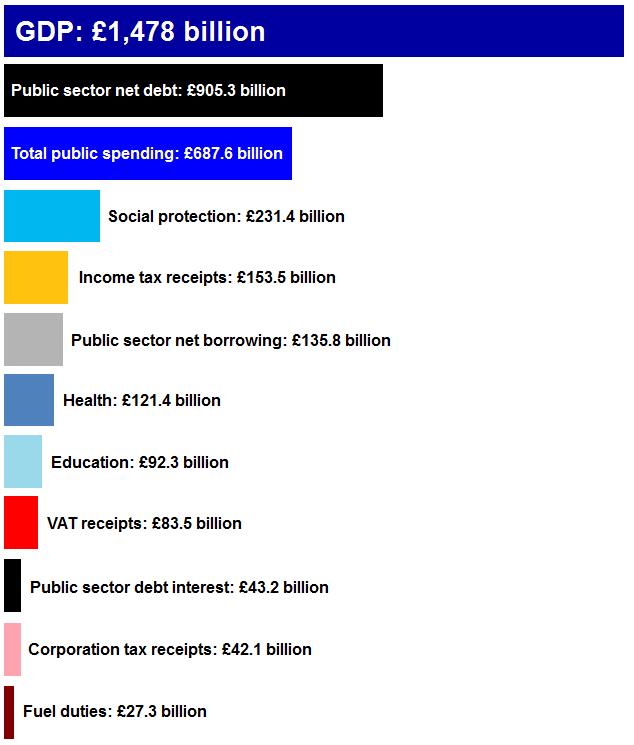 * Approximate figures for 2010/11 from the Treasury, Office for National Statistics (ONS) and HM Revenue and Customs (HMRC). (Public sector net debt and borrowing exclude temporary financial interventions such as establishing public ownership of UK banks. Including these takes UK public debt to £2,250 billion, or 150 per cent of GDP. It also takes borrowing up to £109.5 billion.)
Budgets are often filled with changes in tax duties for fuel, beer, tobacco, wines and spirits. Last year, fuel duty was reduced by one pence per litre and wine, beer, spirits and tobacco rose by two per cent above inflation.
In the grand scheme of things, however, these deal with small numbers compared to the public purse. Fuel duties bring in the most money out of these at £27.3 billion, but that is less than two thirds of the money spent on repaying interest on public debt.
Numbers on a human scale
The team behind Radio 4's More or Less programme on statistical abuses likes to ask how much a sum of money means for each of the people actually affected.
Michael Blastland and Andrew Dilnot, creator and first presenter of the show, tell in their book of how they investigated a decision by the Labour government in 1997 to spend £300 million over five years to create a million new child care places. That, they calculated, was £300 per place, £60 per place per year, or £1.15 per child per week—not a lot of money for child care.
So how can we apply their technique to other claims?
We'll be tweeting during the budget to put some of the figures into perspective so follow @FullFact to stay on top of the news.
Try our calculator tool to do these sums for you. Plug in your number and see what it means per head:
Isn't it nice to have the whole picture?
We rely on your donations to continue and grow our factchecking efforts - to help us maintain our independence we need 1000 donors to give £10 a month. We are currently at 351 - please help Full Fact grow.
---