"Now HS2 route is opposed by Church" - Telegraph front page


"In terms of 'opposition' the C of E is not opposing HS2 per se... we are opposing the Bill in its present, in our view technically deficient, form." - Church of England statement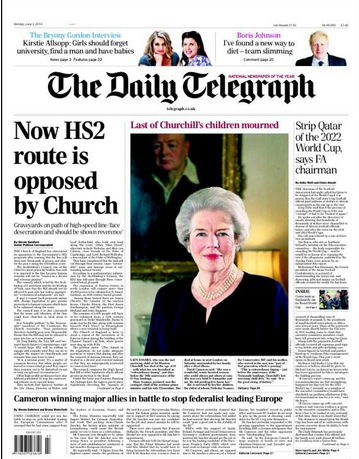 A number of newspapers including the Telegraph and Independent today reported on what it said was the Church of England's opposition to the High Speed 2 (HS2) railway route.
But Church leaders have said they aren't opposed to the railway line itself.
In a petition to Parliament, they argued that the Bill to build the line should include a clause to ensure that human remains exhumed as part of the building work are treated "in a decent and reverent manner". Without such a clause, the Church has said that its opposed to the Bill as it stands.
The Church will be able to make its case for the amendment to a select committee of MPs later in the year.
We aim for our factchecks to be as accurate and up-to-date as possible. If you think we've made an error or missed some relevant information, please email
team@fullfact.org
.