"Now HS2 route is opposed by Church" - Telegraph front page


"In terms of 'opposition' the C of E is not opposing HS2 per se... we are opposing the Bill in its present, in our view technically deficient, form." - Church of England statement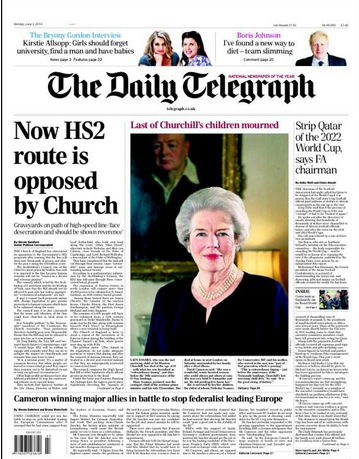 A number of newspapers including the Telegraph and Independent today reported on what it said was the Church of England's opposition to the High Speed 2 (HS2) railway route.
But Church leaders have said they aren't opposed to the railway line itself.
In a petition to Parliament, they argued that the Bill to build the line should include a clause to ensure that human remains exhumed as part of the building work are treated "in a decent and reverent manner". Without such a clause, the Church has said that its opposed to the Bill as it stands.
The Church will be able to make its case for the amendment to a select committee of MPs later in the year.
With Brexit fast approaching, reliable information is crucial.
If you're here, you probably care about honesty. You'd like to see our politicians get their facts straight, back up what they say with evidence, and correct their mistakes. You know that reliable information matters.
There isn't long to go until our scheduled departure from the EU and the House of Commons is divided. We need someone exactly like you to help us call out those who mislead the public—whatever their office, party, or stance on Brexit.
Will you take a stand for honesty in politics?
---