Did NHS spending on managers rise by 450% under Labour?
4 January 2012
"When Labour came to power in 1997, spending on managers and senior managers in the NHS was less than £190 million. By the time they left office in 2010, this has increased by 450 per cent to over £1 billion per year." Chris Skidmore MP, 3 January 2012
The amount the NHS spends on its non-medical staff is often a source of controversy. Last year Full Fact investigated claims that management pay had grown by 50 per cent in the past five years, and found them to be broadly accurate.
So where does this latest claim come from, and does it add up?
Analysis
Difficulties emerge because information on NHS staffing costs can come from several different sources, however management statistics quoted on the NHS Confederation's website paint a different picture to the Conservative figures.
It claims that "in 2008/2009 the management costs of the NHS had fallen from 5.0 per cent in 1997/98 to 3.0 per cent."
Full Fact got in touch with the NHS Confederation to find out where these figures came from, and found that they relate to a House of Commons Health Committee report on 'Public Expenditure on Health and Personal Services 2009'. The report includes the following table on management costs: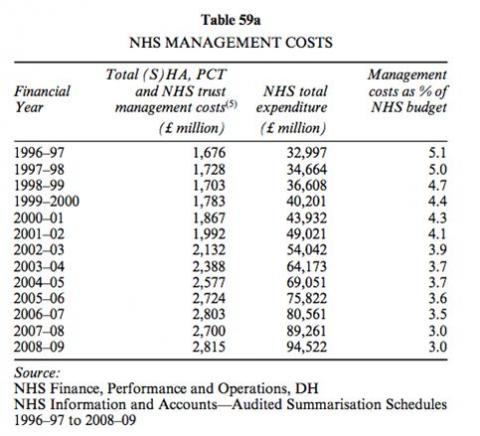 According to these figures, management costs in 1997 stood at £1.7 billion, much higher than the figure quoted by the Conservatives.
By 2008/9, this had risen to £2.8 billion, again higher than the Conservative figure. This would indicate that the cost of management to the NHS has risen by 68 per cent, not 450 per cent.
Given that the total NHS budget has increased by 186 per cent over the same period, the management bill as a share of total expenditure would actually have shrank over the period.
A spokesperson for the NHS Confederation also pointed to analysis of OECD data which shows that NHS administrative costs were lower than those in many other countries.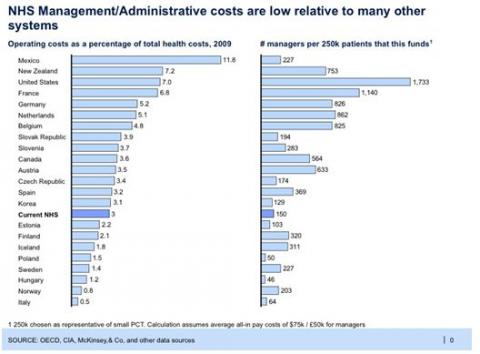 Looking at the head count figures of management personnel in the NHS could also help put the cost figures into perspective.
NHS statistics indicate that 22,173 managers and senior managers worked for the NHS in England in 1997. In September 2010 that figure was 41,962 (both of which are headcounts rather than full-time workers).  This represents a 90 per cent increase.
This isn't to say that Chris Skidmore is wrong to make the claim that he does. His definition of management spending may be different from that used by the NHS Confederation, or he may be using a different dataset to make the comparison. Full Fact has contacted his office in an effort to find out more.
Update (5/1/2012): Mr Skidmore has kindly provided us with the source of his figures. In July 2011 he submitted a Parliamentary Question to the Health Secretary to ask "how much was spent by primary care trusts on management costs" in 1997/98 and 2009/10. While PCTs were not in existance in 1997, the answer nevertheless gives the spend in health authorities as follows:

The increase in spending is therefore £852 million, or 449 per cent, as Mr Skidmore claimed. What isn't clear is why this figure diverges so sharply from the management costs given in the 2009 Health Committee report. We are currently investigating this with the Department of Health.
Conclusion
While the information from the NHS Confederation does seem to show a different picture of NHS management spending under the previous government, Chris Skidmore is able to point to Department of Health data showing the increase in spending on managers and senior managers he claimed.
We are still looking in to the details of the figures provided to the Conservative MP to better understand them, and why there should be such a difference with other estimates. We will update as soon as we know more.