This article has been updated. See below for more details.
"25 per cent of people in Europe who suffer from aviation noise live near Heathrow"
Boris Johnson, Today, Radio 4, 18 January 2012
On this morning's Today program the Mayor of London, Boris Johnson, made the interesting claim that a quarter of Europe's residents suffering from aviation noise were those living near Heathrow airport.
His claims come amidst a recent debate over a proposed new airport on the Thames Estuary, set to be subject to a Government consulation.
Full Fact looked into the figures behind the claim.
Analysis
Mr Johnson's claim appears to be based on a report from the Civil Aviation Authority (CAA) published in December 2011, which claimed "Heathrow accounts for more than one quarter of the people affected by aviation noise at the European level".
In it, CAA provide a list of the top fifteen UK airports (below), listing Heathrow airport as having an impact on 725,500 people, or 28.5 per cent of people in Europe.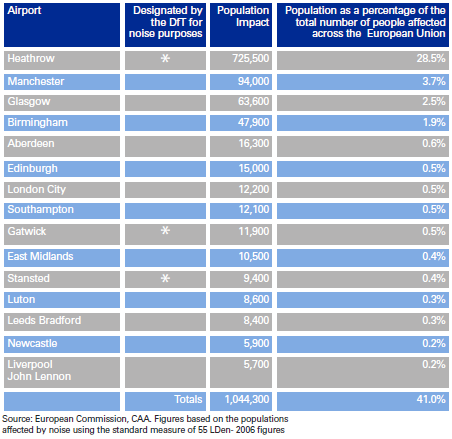 The measure used to calculate the area affected is called the Lden. This is measured as the Leq (equivalent continuous noise level) over 24 hours, adjusted with a 5 dB weighting during the evening and a 10 dB weighting at night.
The standard measure of the number of people affected by an aviation noise is the number of people living in an area where the Lden is 55 dB or more, used by both the CAA and the EU. Hence it does not necessarily apply to all residents necessarily 'affected' by the noise, but those most affected in terms of decibels.
However, although the CAA refer to a figure of 2.5 million from 2006, a report to the European Commission from MPD Group Ltd in 2006 estimated that 2.2 million people were affected (estimated to have increased to 2.4 million by 2010). The 725,500 figure is 29 per cent of 2.5 million.
Full Fact contacted the CAA regarding the source of the latter figure, and received this reply:
"Firstly, the total number of people at Heathrow within the 55 Lden contour is 756,000 as published in ERCD Report 0706, which can be accessed by clicking here.
The estimate of 2.5 million for the total number of people affected by aviation noise in the EU is derived from each Member State's (MS) submission as published by the Commission on its CIRCA website; please click here to access the relevant information. The difference in estimations was the result of some confusion over the initial submissions to the Commission. The submission had to be reported in 100's of people, but it would appear that the data from some MS had not been multiplied by 100; hence the initial data was around 2.2 million."
Conclusion
The Mayor of London's claim that Heathrow accounts for 25 per cent seems to be a slight underestimate according to the figures provided by the CAA.
It is nonetheless worth noting that these figures are from 2006 and therefore may not necessarily still apply, but they do appear to be the latest figures available and applied when the CAA report was published last month.
The integrity of our elections is in danger, and we need your help
You're probably here looking for facts. Thank you for that trust. But with the EU parliament elections on the way and more elections a possibility, we need to act now to make sure our elections are protected, before it's too late.
Could you help protect our elections by becoming a Full Fact donor?
Misinformation isn't new, but advancements in technology mean it can spread at an unprecedented scale. Our dangerously outdated election laws have not kept up with the digital age, putting our next elections at risk of abuse.
Currently, it's possible for a candidate to run a thousand different political ads to win the same seat, promising something different to each group it targets. At the same time, there's no law requiring those who publish online campaigns to disclose who they are or how they are funded. The opportunity for bad actors to manipulate election results is left wide open.
You may already know about our work to make public debate online more honest and transparent. Every day, we call out the most harmful misinformation on social media platforms when and where we see it. But right now, we're urging the government to overhaul our election laws to make sure political campaigning is held to the same level of scrutiny online as it is offline.
This work all depends on the generosity of hundreds of people who all believe that for democracy to work, we need transparency. Our monthly donors help strengthen our voice, and show our politicians that this really matters. Would you consider joining them?
Become a donor today to make sure our elections are protected.
---