Do 70 per cent of prisoners have two or more mental health conditions?
1 February 2012
"70% of prisoners have two or more mental health conditions, but many are undiagnosed or untreated."
Andy Burnham MP, 31 January 2012
The Shadow Health Secretary, Andy Burnham MP, has claimed in a speech to the Centre for Social Justice that 70 per cent of prisoners have two or more mental health conditions.
The speech, made to the think-tank yesterday, was aimed at emphasising Labour's health policies and their focus on mental health.
Mr Burnham expressed he was "taken aback" by the figure and had it checked out. Full Fact was also taken aback, and hence decided to check it again.
Analysis
In the speech, Mr Burnham cites the Bradley Report into Mental Health in the Criminal Justice System, published in April 2009.
The reference to the percentage of prisoners with two or more mental health conditions does not appear to be in the report, although Lord Bradley did point out that "over 90% of prisoners had one or more of the five psychiatric disorders studied (psychosis, neurosis, personality disorder, hazardous drinking and drug dependence)".
Lord Bradley cites work done by the Office for National Statistics in 1998, in which prisoners were surveyed and data on mental disorders amongst prisoners were gathered. Although the full report is not available online, the summary does give the percentage for the number of mental conditions.
From this data, Full Fact was able to calculate the number and percentage of prisoners in each category who had two or more of the five psychiatric disorders, giving a total of 76.26 per cent.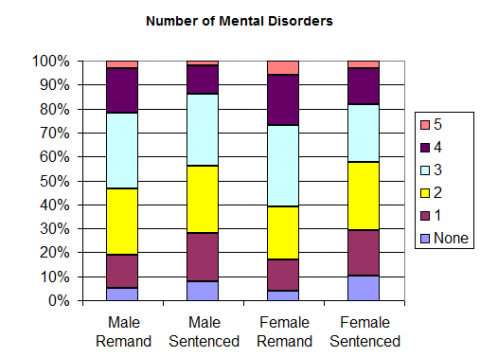 However, this data is quite out-of-date, having been published nearly 15 years ago, so Full Fact tried to find some recent data on the issue. The Prison Reform Trust have made a similar claim recently, stating that "75% of all prisoners have a dual diagnosis (mental health problems combined with alcohol or drug misuse)", and citing a report by the Offender Health Research Network in 2009.
The OHRN however, makes a crucial distinction, saying that "Overall, 71% of the prison population had a current SMI (Serious Mental Illness), substance misuse problem or both", arriving at a similar statistic but only by combining substance misuse, SMI, and instances where a prisoner was affected by both. It is also unclear whether the definition of SMI is similar to the categories used by the ONS.
It is possible that the Prison Reform Trust intended to refer to the ONS report, as shortly after the claim they refer to the Bradley Report. Full Fact has contacted the Trust to check whether this is the case, and we will post an update as soon as we have more information.
Conclusion
The claim put forward by Mr Burnham in his speech seems to be accurate according to the data it refers to, and he makes a point of referring to the report by Lord Bradley in 2009.
However, the data which the Bradley Report relies on is quite old having been gathered in 1998, and is likely to be outdated. More recent data would be extremely helpful, and would allow a more accurate assessment of the claim.
Update 3 February 2012
The Prison Reform Trust have since been in touch and have said they will correct their reference in the next edition of the Bromley Briefing.