Do British people pay over 40 per cent of all alcohol duties in Europe?
22 March 2012
"The fact Britons are forced to pay over 40% of the EU beer tax bill but consume only 13% of the beer sold in Europe is remarkable."
Mike Benner, Chief Executive of CAMRA, 21 March 2012
"We are disappointed that excise duties on alcohol will increase by 2% beyond the rate of inflation, since the British people are now paying 40% of all the alcohol duties in Europe."
Tim Martin, Chairman of JD Wetherspoon, 21 March 2012
Yesterday's Budget brought with it the predicted rise in alcohol duties of two per cent above inflation. Licensees will also be keenly listening out next week when the Government publishes its alcohol strategy, which is reported to contain a sharp rise in costs.
But are British pints really the most taxed in Europe?
Analysis
The Campaign for Real Ale's (CAMRA) research came from the Brussels-based trade organisation Brewers of Europe, who sent through statistics they had commissioned from Ernst & Young. The figures cover beer only.
The data covers seven different categories of government revenue raised through taxes on the production and sale of beer, including income tax from employees of breweries, VAT from hospitality, and excise duties.
They confirm that 40 per cent of the overall excise duty revenue in the European Union is generated by the UK. Applying this more widely to four other European countries outside the EU but also included in the sample reduces this proportion to 34 per cent.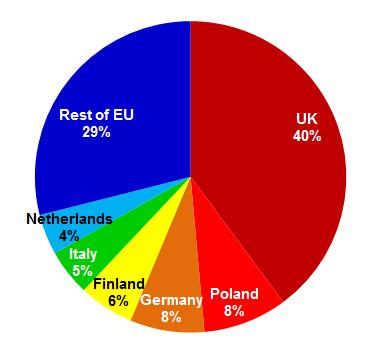 Across all seven categories of tax, the UK's share of total government revenue from the production and sale of beer is 21 per cent for the EU and 19.5 per cent for wider Europe. Here we are behind only Germany.
However, this is not the only way Europe's beer excise duties can be measured. The Brewers of Europe's most recent related publication looks at the minimum rate of excise duties for beer in the European Union. In this case, rather than measuring government revenue overall, they look at the rate of excise duty per hectolitre and 'Plato' - in essence a scale of sugar levels in beer.
Looking at this data shows that, pound-for-pound, the UK public pays far more than most in Europe, although not the most.
Conclusion
The claim made by Mike Benner is accurate by the statistics provided by Brewers of Europe. However, Mr Martin's claim loses some of the details. The 40 per cent refers to beer excise duties specifically rather than all 'alcohol' duties. The 40 per cent also refers to the EU's tax bill, since taking the whole of 'Europe' actually reduces this proportion to 34 per cent.