Do Christians believe they are in a "persecuted minority"?
30 March 2013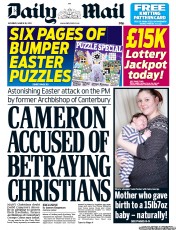 Many media outlets this morning cover a former Archbishop of Canterbury criticising the Prime Minister over 'aggressive secularisation'.
Lord Carey feels "that his government is aiding and abetting this aggression every step of the way."
"According to a new ComRes poll," he writes, "more than two-thirds of Christians feel that they are part of a 'persecuted minority'"
With this story splashed on the front page of the Mail, and echoed across the papers and broadcasters, we were surprised that the poll itself was nowhere to be found.
Whether or not journalists have seen the raw data, none thought to share it with the public. The Coalition for Marriage, which commissioned the poll, has not published it on their website either.
Happilly, ComRes are members of the British Polling Council, the industry body which in its own words tries to: "ensure standards of disclosure designed to provide consumers of survey results that enter the public domain have an adequate basis for judging the reliability and validity of the results."
We contacted them this morning and now, within a few hours, the oversight has been fixed. ComRes has published the full survey questions and answers. Thanks to ComRes for getting this done on Easter weekend.
The relevant question reads: "Do you agree or disagree with these statements? ... I sometimes or often feel a member of a persecuted minority because of the constraints on religious expression in this country" and you can find it on page 30 of the survey results.
67% agreed, 29% disagreed and 4% did not know.
A little more information on the panel of 535 Christians used for the survey is also on their site. Notably, they survey practising Christians, not the much larger proportion of us who identify as Christian.
The British Polling Council also publish A Journalist's Guide to Opinion Polls, which is useful for anyone interested deciding whether to trust a particular poll.