On the eve of the Budget, the Times published a letter to the Editor on the much discussed topic of income tax. However, it was not merely a rhetorical call for the elimination of the 50 pence tax rate. It instead sought to point out one of the system's less forgiving anomalies.
In the same year the well-known 50 pence tax rate was introduced, a lesser-known rule for a particular subset of 40 per cent ratepayers also came into force. From 2010-11, the tax-free personal allowances of individuals earning over £100,000 were reduced by £1 for every £2 of income over the £100,000 threshold.
The author of the letter claimed this meant that, for the 2011-12 tax year, ratepayers earning between £100,000 and £114,950 paid an effective income tax rate of 60 per cent on every additional pound.
The claim seems rather odd at face value, but looking at the figures more closely sheds some light on the claim.
The tax-free personal allowance is the amount of money a person can earn free of income tax, with any additional earnings taxed at the relevant rate. The 2011-12 level is £7,475.
However, once individuals earn above £100,000, for every additional £2 they earn, they lose £1 of their personal allowance.
Every extra £2 is typically taxed at 40 per cent, a sum of 80 pence. In addition, every extra £1 that comes out of the personal allowance is also charged at 40 per cent, a sum of 40 pence. Hence, every extra £2 of income is taxable to the tune of £1.20 in total. In effect, this is a marginal tax of 60 per cent of added income.
It is important to note that this only applies to those earning incomes between £100,000 and £114,950 in this 2011-12 year. This is because, by the time a person's income reaches £114,950, they have lost all of their personal allowance and so the 40 per cent tax on this reduction ceases to have effect.
In a sense, the letter in the Times could be said to have been touching on a wider theme, for it is often said that individual incomes are levied at a greater rate than the taxpayer takes for granted because of National Insurance Contributions.
Ian Cowie's blog in the Telegraph claims that, because of a combination of factors, including the withdrawal of benefits, taxpayers at all levels are paying more in taxes as a proportion of their overall income.
Below is a full breakdown of two income sets calculated for both income tax and National Insurance, courtesy of the listentotaxman website. One is for an individual earning at £100,000, the other is for an individual earning £110,000.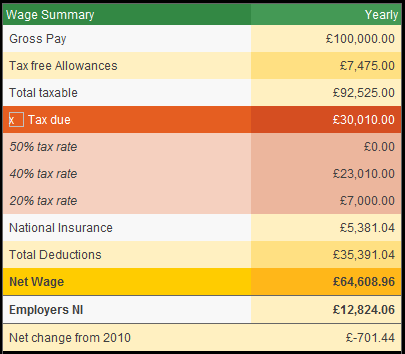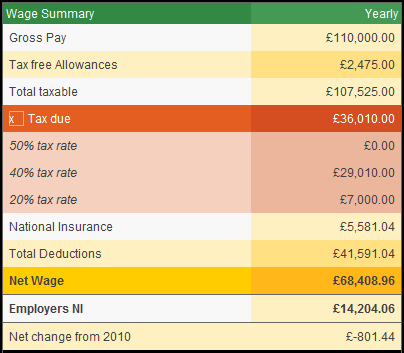 The tables display a large discrepancy in National Insurance Contributions between both earners. For an individual who earns £110,000, £5,000 of his or her National Insurance Contributions are subject to a 40 per cent tax, leaving him or her with a tax-free sum of £2,475. This is stark contrast to the person who earns £10,000 less.
So the point being made by the Times reader is only one possible criticism of the way in which tax is presented in public. Factors such as National Insurance and benefits also play their part.
The integrity of our elections is in danger, and we need your help
You're probably here looking for facts. Thank you for that trust. But with the EU parliament elections on the way and more elections a possibility, we need to act now to make sure our elections are protected, before it's too late.
Could you help protect our elections by becoming a Full Fact donor?
Misinformation isn't new, but advancements in technology mean it can spread at an unprecedented scale. Our dangerously outdated election laws have not kept up with the digital age, putting our next elections at risk of abuse.
Currently, it's possible for a candidate to run a thousand different political ads to win the same seat, promising something different to each group it targets. At the same time, there's no law requiring those who publish online campaigns to disclose who they are or how they are funded. The opportunity for bad actors to manipulate election results is left wide open.
You may already know about our work to make public debate online more honest and transparent. Every day, we call out the most harmful misinformation on social media platforms when and where we see it. But right now, we're urging the government to overhaul our election laws to make sure political campaigning is held to the same level of scrutiny online as it is offline.
This work all depends on the generosity of hundreds of people who all believe that for democracy to work, we need transparency. Our monthly donors help strengthen our voice, and show our politicians that this really matters. Would you consider joining them?
Become a donor today to make sure our elections are protected.
---