In our General Election Factcheck 2015 report, we include five common pitfalls when it comes to political claims. These are errors that politicians often fall into, and are all too easy to fall for. We've made these mistakes ourselves at times, and know how hard they can be to spot. Here's our guide to how to identify and avoid them.
It's a record! Or is it? We hear many claims about record numbers, but when these claims come up, we always ask what's happening to the baseline.
For example, it would be no surprise to hear that the number of car crashes has gone up since 100 years ago. There are more cars now than there were 100 years ago. A significant factor in any increase might be just that the baseline has changed.
A fairer estimate of accidents would involve comparing the number of accidents to the total number of cars. To account for the baseline, it's best to look at the rate, rather than the level.
The UK's population is rising. Many political claims that we hear about record numbers of people boil down to that simple fact.
So when we hear that the UK has a record number in employment, as claimed by the Conservatives and mentioned in the Liberal Democrat manifesto, we need to look at the baseline.
This "record number" is uninteresting. Records are fairly consistently made—and broken—bar periods of economic downturn, because the population is increasing.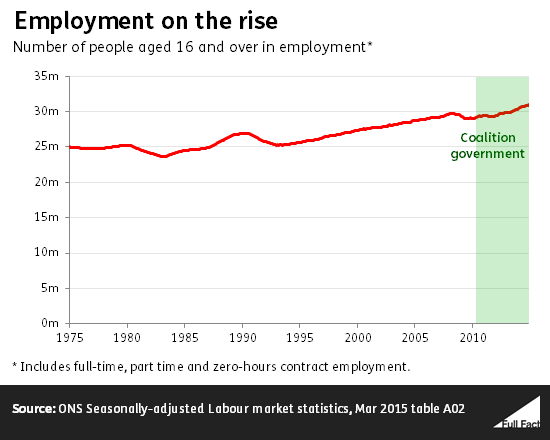 So we shouldn't read too much into the employment level.
Look at the employment rate—the proportion of people aged 16-64 who are in work—and you do get a story: before the downturn in 2008 a peak of 73% of us were in work. That got as low as 70%, and is now back up beyond 73%. That's a record level on a more meaningful measure.
Another example comes from claims about records in England's A&E services. According to Labour, there were a record number of people waiting more than four hours in A&E; the Conservatives replied by saying there were a record number of people not waiting more than four hours in A&E.
Perhaps the most revealing figure is the baseline: there were 22.4 million A&E attendances in England last year—a record number.
That was 1.3 million more than in 2010 and around 3.7 million more than in 2005.
Can you help protect this election from the influence of bad information? Support Full Fact
This election, clear, accurate facts won't always be a guarantee. False and harmful claims are spread every day by our public figures and media. Intentional or not, they have the power to shape the choices we make. We all deserve better than that.
That's why we're fighting to keep this election more honest and accountable. And we can't do it without you. In a fast-paced campaign, our supporters mean we can hold all candidates to the same three principles: get your facts right, back them up with evidence, and correct your mistakes.
Just a small monthly donation keeps us scrutinising the most harmful false claims around the clock, and challenging the people who make them.
If you, like us, don't want your vote to be influenced by bad information, can you help out?
---