Election turnout: is it the worst ever?
16th Nov 2012
As the results start to come in for England and Wales's first ever Police and Crime Commissioner (PCC) elections, one story that looks set to dominate all others is the markedly low turnout. 
According to some sources, one polling station in Newport received no votes whatsoever for the Gwent Constabulary election.
This poor showing of voters wasn't limited to the PCC elections - in the Manchester Central Parliamentary by-election early figures indicate a turnout of barely 18 per cent.
But what do these numbers mean in context? Is the electorate really snubbing the ballot box in record numbers?
Worst ever national turnout?
Data from the House of Commons Library and Guardian allows us to give some historical perspective on PCC turnout. If early indications of turnout of around 15 to 20% are to be believed, this is how today's elections compare: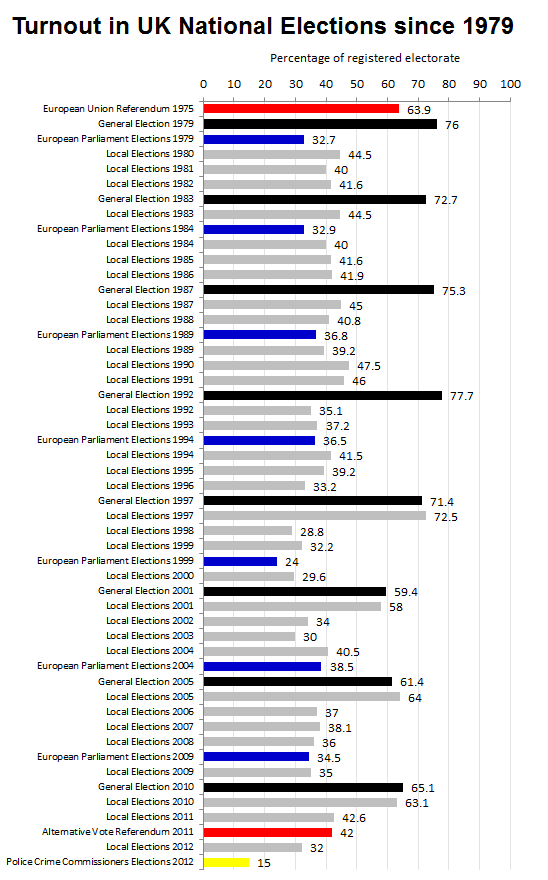 [The PCC elections are only taking place in England and Wales, and Local Elections coverage will vary.]
The closest competitor for stay-away voters is the European Parliament elections in 1999 in which 24% of registered voters showed up to vote (no national election prior to 1979 comes anywhere close to this). So it's almost certain that these elections will show the lowest national turnout in the history of UK elections.
Worst ever by-election turnouts?
Using the same sources, we can also see how the three by-elections taking place today (Corby, Manchester Central and Cardiff South and Penarth) stack up comparatively: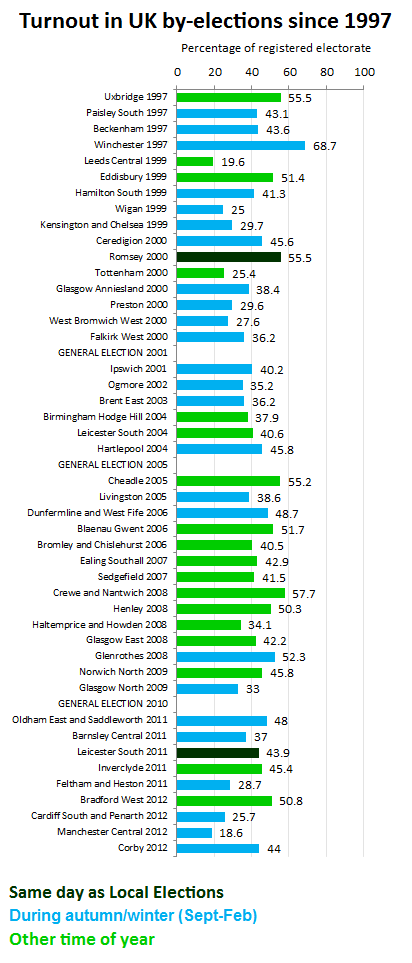 Manchester Central's showing of 18.6% means it takes the record for the lowest post-war by-election turnout - the previous holder of this inauspicious title was Leeds Central in 1999 when 19.6% of registered voters showed up to vote.
Lower turnout was recorded in a Poplar South by-election in 1942, where 8.5% of eligible voters cast theri ballots (although we should remember that this was held during wartime!).
Worst ever mayoral election turnout?
Bristol is of particular interest, as it voted yesterday for its first elected Mayor. Turnout here is expected to be around 23%. Is this also the lowest in history?
While 23% is low by recent standards, it still isn't as low as Mansfield's Mayoral Election in 2002 in which just 18.5% of voters turned out.
Why is turnout so low?
The natural question to ask in light of these figures is what has gone 'wrong'. Admittedly, this question will likely be the subject of prolonged debate over the days to come. There are, however, some clues from past and recent research.
The Electoral Reform Society posit that the key factors affecting the PCC election turnout will have been holding the election in November rather than during the summer, having no mailout to voters, and no party political broadcasts to raise awareness.
Evidence from the Electoral Commission via the British Election Study also shows that exposure to campaigning can also have an impact on turnout, finding that turnout was markedly higher amongst voters who had been exposed compared to those to hadn't (although this could also simply be due to how close the contest is, which can cause parties to campaign harder).
How much of an impact these kinds of factors will have had is as yet unknown. However, today the Electoral Commission announced it would be undertaking a review into the low turnout and would report in 2013. The full picture will presumably be clear by then.