Evening Standard incorrectly reports a drop in the cost of living
22nd May 2012
Today's Evening Standard carries a very misleading headline. Reporting on the fall in the CPI rate of inflation from 3.5 per cent to 3 per cent, the paper's headline claimed that the 'cost of living' had dropped: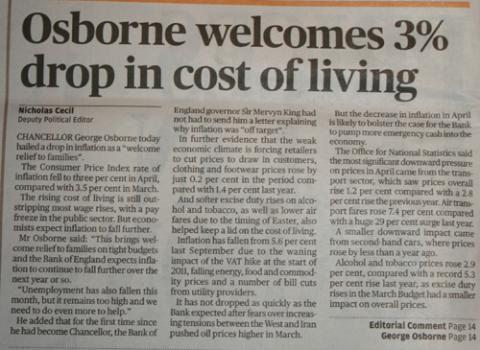 This is not what today's news means. The Consumer Prices Index (CPI) measures the average price of a basket of goods nationwide, so that we can guage how drastically prices are rising or falling.
The Office for National Statistics today reported that prices were rising by 3 per cent, although the rate at which prices were increasing had slowed from 3.5 per cent the month before.
In fact, even the Standard article itself notes that:
"The rising cost of living is still out-stripping most wage rises."
The problem therefore is that the headline does not reflect what's actually in the article; a phenomenon we have noticed many times before, which is why we have recommended that the PCC Editors' Code contains a clause to specifically target misleading headlines.
It is pleasing to see that many of the Evening Standard's readers have already picked up on the problem, and are urging the paper to correct it. One commenter on the online version wrote: 
"Please change your head line, as the cost of living is still increasing...at 3%.Its an increase in the cost of living and needs reporting as such."
We will of course be adding our voice to these readers to press the Standard to properly correct this error in print and online.