A joint statement from the broadcasters BBC, ITV, Channel 4 and Sky claimed that:
"22 million people watched the election debates in 2010".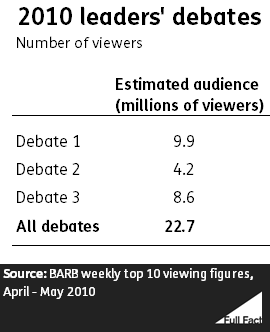 This figure has been quoted in recent news coverage on the issue of televised leaders' debates for 2015, and makes it sound like 35% of the 62.8 million people living in the UK in 2010 watched the debates.
The true number of distinct viewers is likely to be smaller than this. According to figures from the Broadcasters' Audience Research Board (BARB), the three debates had an estimated audience of 22.7 million in total. But 22.7 million viewers across three debates is not the same as 22.7 million people watching them: many will have tuned in to more than one debate.
We need facts more than ever.
Right now, it's difficult to know what or who to trust. Misinformation is spreading. Politics and the media are being pushed to the limit by advancements in technology and uncertainty about the future. We need facts more than ever.
This is where you come in. Your donation is vital for our small, independent team to keep going, at the time when it's needed most. With your help, we can keep factchecking and demanding better from our politicians and public figures.We can give more people the tools to decide for themselves what to believe. We can intervene more effectively where false claims cause most harm.
Become a donor today and stand up for better public debate, on all sides, across the UK.
---