A joint statement from the broadcasters BBC, ITV, Channel 4 and Sky claimed that:
"22 million people watched the election debates in 2010".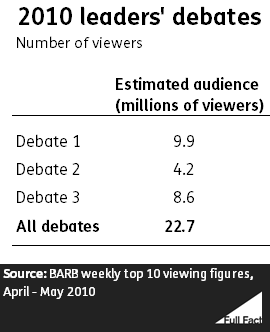 This figure has been quoted in recent news coverage on the issue of televised leaders' debates for 2015, and makes it sound like 35% of the 62.8 million people living in the UK in 2010 watched the debates.
The true number of distinct viewers is likely to be smaller than this. According to figures from the Broadcasters' Audience Research Board (BARB), the three debates had an estimated audience of 22.7 million in total. But 22.7 million viewers across three debates is not the same as 22.7 million people watching them: many will have tuned in to more than one debate.
With Brexit fast approaching, reliable information is crucial.
If you're here, you probably care about honesty. You'd like to see our politicians get their facts straight, back up what they say with evidence, and correct their mistakes. You know that reliable information matters.
There isn't long to go until our scheduled departure from the EU and the House of Commons is divided. We need someone exactly like you to help us call out those who mislead the public—whatever their office, party, or stance on Brexit.
Will you take a stand for honesty in politics?
---