"Look at the way David Cameron is taking more money from disabled people than he is from the banks."
Yvette Cooper, Speech to Labour Party Conference, 30 September 2012
With the Labour Party Conference in full swing this week, the Shadow Home Secretary and Women & Equalities Minister took the opportunity in her own speech to trumpet Labour's credentials on equalities while lambasting the Coalition's record in government.
While attacking the Government for "reinforcing, rather than challenging discrimination", Yvette Cooper slipped in a startling claim - that the Coalition is taking more money from the disabled than it is from the banks.
The source
After we got in touch, Ms Cooper's office were kind enough to send us the source. Shadow Work and Pensions Secretary Liam Byrne originally made the claim on 20 June this year in parliament:
"New research from the House of Commons Library, which I am publishing today, shows that over the course of this Parliament, disabled people in our country will pay more than Britain's bankers. Indeed, in the final year of the Parliament, disabled people will be paying 40% more than the banks."
The table below outlines these estimates for how much the Treasury has gained from policy changes involving disabled people and bank levies: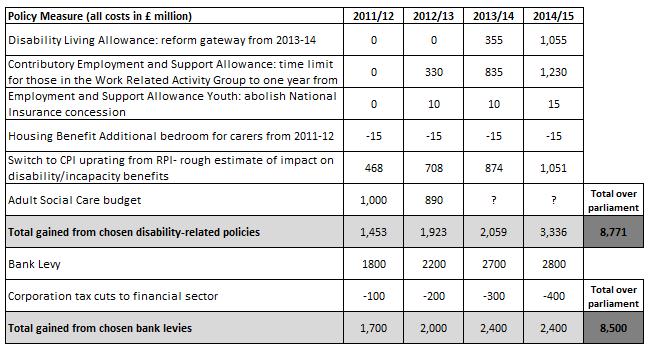 Policies for the disabled
Labour identifies six separate policies which have, by and large, brought in money to the Treasury. It initially estimated the savings it expected to make through reforms to Disability Living Allowance in the Coalition's first Budget in June 2010, and these were re-estimated in the 2012 Budget. The amount gained is placed at £355 million in 2013/14 and £1.055 billion in 2014/15.
Meanwhile, limiting the receipt of Employment and Support Allowance recepients in the Work Related Activity Group was costed in the 2010 Spending Review while abolishing National Insurance concessions was costed in the March 2011 Budget. The figures from the budgets match those used in Labour's calculations.
Labour add to this a £1.89 billion gain from changes to the Adult Social Care budget. These were made by Adult Social Services group ADASS in a survey of 145 councils following the 2012 Budget, finding £890m adult social care reductions planned for 2012/13 combined with the £1 billion of reductions they recorded in 2011.
However, it isn't made clear how much of this fund actually concerns care for disabled people. ADASS confirmed to us that the figures weren't broken down by the cohort of people affected. So we can't tell how much is actually cutting services for disabled people and how much is going people who are merely older.
A Full Fact investigation last year found figures from the House of Commons Library and the DCLG on the Adult Social Care budget which suggest most funding is directed towards older people and children's services. However we can't be sure how closely this applies to the cuts identified for council budgets, so this is only an indicative figure.
That said, given we only have two years of data for the social care budget, this figure isn't necessarily a finished story.
In any case, Labour's figures account for at least £6.7 billion in revenue from policies relating to disability, and may account for up to £8.6 billion, though we can't be sure of exactly where the final figure will fall.
Policies for the banks
The Office for Budget Responsibility (OBR) is cited by Labour as the source of the bank receipt figures. Its latest report from March 2012 outlines the relevant estimates:

The 'Temporary bank payroll tax' was introduced by the last Labour Government in 2009 - however the Labour administration chose not to extend this in its March 2010 budget.
Nevertheless, the tax did bring in money to the Treasury in the first year of this Parliament, although Labour doesn't include the £3.5 billion revenue in its estimate, possibly because only the Coalition's policies were under consideration.
The 'Bank Levy' was introduced in the 2010 Budget in order to (according to the Chancellor) "generate over £2 billion of annual revenues". The latest estimates from the OBR project the levy to raise even more than this - up to £2.8 billion a year - by 2015. This means total revenue from the levy in this Parliament will be around £9.5 billion.
However Labour offset this figure by accounting for the Coalition's Corporation Tax reduction. A parliamentary question from 2010 provides a revenue figure for 'financial sector companies' (which can include banks) and places its total cost to the Treasury this parliament at around £1 billion.
This gives Labour an estimate of £8.5 billion in revenue from the Bank levy minus Corporation Tax breaks for financial services.
Conclusion
We're waiting for more information from Labour for how they calculated the inflation changes affecting disability payments and whether they consider an entire 'adult social care' budget an adequate proxy for cuts to disabled people's services in particular.
In the meantime, Labour does provide hard evidence for £5.7 billion of its figure for the money 'taken from the disabled', and provided their inflation calculations are sound can vouch for another £1 billion. 
We can verify with more confidence Labour's £8.5 billion estimate for revenues from the banks which almost entirely draws on the Bank Levy, minus reductions in Corporation Tax. 
In order for the Government to have 'taken' more money from the disabled than from the banks, almost all of the cuts to Adult Social Care council budgets will have to be attributed to services for disabled people. This would marginally out-strip the £8.5 billion saving from banks. It isn't at all clear whether this is actually the case without data on the social care budget from 2013 onwards.
The bottom line is that the Government certainly isn't taking more from disabled people than the banks at the moment, although most of the revenues from changes to disability benefits haven't yet been realised. By the end of this Parliament, the total revenue from the disabled could well outstrip that taken from the banks provided there are no further policy changes, but Labour haven't yet proved that this is the case.
The integrity of our elections is in danger, and we need your help
You're probably here looking for facts. Thank you for that trust. But with the EU parliament elections on the way and more elections a possibility, we need to act now to make sure our elections are protected, before it's too late.
Could you help protect our elections by becoming a Full Fact donor?
Misinformation isn't new, but advancements in technology mean it can spread at an unprecedented scale. Our dangerously outdated election laws have not kept up with the digital age, putting our next elections at risk of abuse.
Currently, it's possible for a candidate to run a thousand different political ads to win the same seat, promising something different to each group it targets. At the same time, there's no law requiring those who publish online campaigns to disclose who they are or how they are funded. The opportunity for bad actors to manipulate election results is left wide open.
You may already know about our work to make public debate online more honest and transparent. Every day, we call out the most harmful misinformation on social media platforms when and where we see it. But right now, we're urging the government to overhaul our election laws to make sure political campaigning is held to the same level of scrutiny online as it is offline.
This work all depends on the generosity of hundreds of people who all believe that for democracy to work, we need transparency. Our monthly donors help strengthen our voice, and show our politicians that this really matters. Would you consider joining them?
Become a donor today to make sure our elections are protected.
---