"It's no coincidence that as affordability has increased, alcohol-related hospital admissions have quadrupled"
Nicola Sturgeon, Scottish Health Secretary, 14 May 2012
Is it a coincidence? And has it actually happened at all?
Analysis
Alcohol-related discharge statistics are measured using national inidicators published by the Scottish Information Services Division (ISD). The Scottish Government themselves routinely comment on the status of such indictors in terms of whether they are heading in the right direction.
However the latest update for 2010/11 says something somewhat different to the Health Minister's claims. In the words of the Scottish Government:
"Levels of alcohol related hospital admissions have increased steadily over the last few decades. However, decreases over the last 3 years mean admission rates are almost 6% lower than they were 5 years ago."
They also provide statistics dating back to 1997: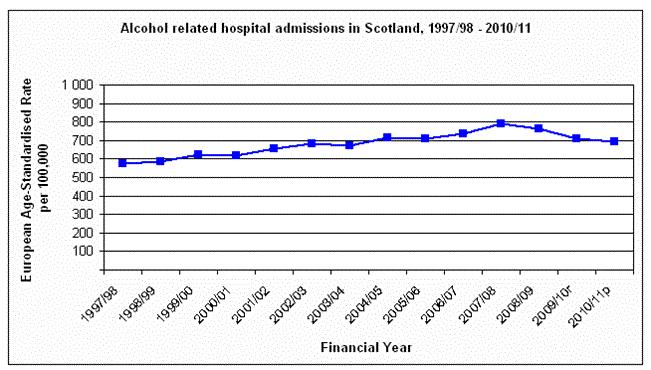 Ms Sturgeon did not make clear what timeframe she was referring to in the statement. However, the most accessible statistics from the Scottish Government hardly show a quadrupling in admissions. The figures show, at most, a 21 per cent rise in admissions going back to 1997.
Even looking at alcohol-related hospital discharge statistics in Scotland, the picture isn't much clearer.
Rather than the quadrupling suggested by the Health Minister, in actual fact, according to official statistics released by ISD, the number of alcohol-related discharges in Scotland has fallen year on year since 2007.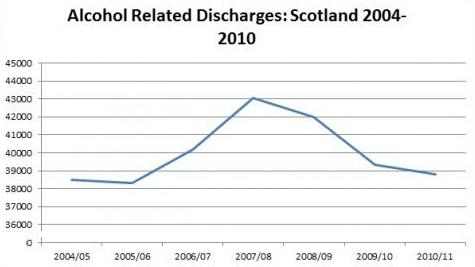 | | |
| --- | --- |
| Year | Alcohol Related Discharges |
| 2004/05 | 38476 |
| 2005/06 | 38323 |
| 2006/07 | 40180 |
| 2007/08 | 43054 |
| 2008/09 | 41980 |
| 2009/10 | 39344 |
| 2010/11 | 38825 |
According to the Alcohol Hospital Statistics Report 2012, released today, the number of alcohol-related discharges per 100,000 members of the population has also decreased in recent years after reaching a high in 2007.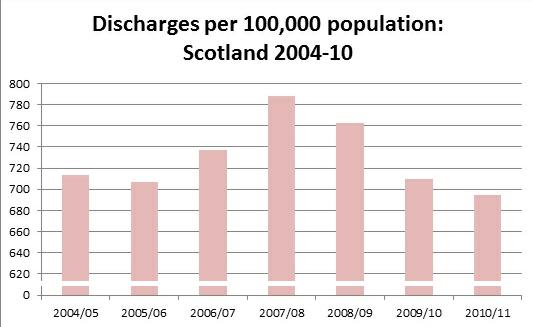 | | |
| --- | --- |
| Year | Discharges per 100,000 Population |
| 2004/05 | 713 |
| 2005/06 | 707 |
| 2006/07 | 737 |
| 2007/08 | 788 |
| 2008/09 | 763 |
| 2009/10 | 710 |
| 2010/11 | 695 |
The ISD also include an affordability index within their 2011 Alcohol Statistics Report. However, this index is relevant to the entire UK, and is not specific to Scotland. It encompasses a period between 1987 and 2009, and by 2009 we see a 66 per cent increase in affordability since 1987.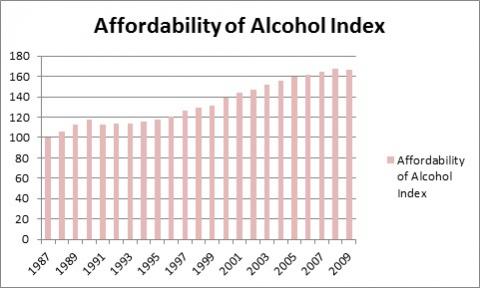 ISD sourced the index from the Office of National Statistics (ONS). Plotting the index against the number of alcohol-related hospital discharges in the years for which both data sets are available reveals the following trend: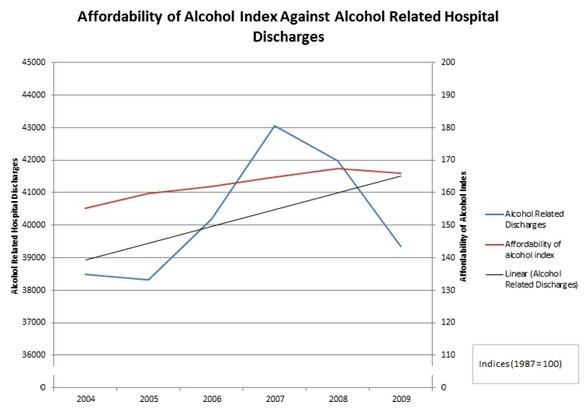 Conclusion
Full Fact has contacted the Scottish Government to find out why these statistics apparently contradict the Minister's statement, and will update when we get a response.
Until then, the Minister's statement does not appear to reflect the recent reality of Socttish alcohol admissions.
We need facts more than ever.
Right now, it's difficult to know what or who to trust. Misinformation is spreading. Politics and the media are being pushed to the limit by advancements in technology and uncertainty about the future. We need facts more than ever.
This is where you come in. Your donation is vital for our small, independent team to keep going, at the time when it's needed most. With your help, we can keep factchecking and demanding better from our politicians and public figures.We can give more people the tools to decide for themselves what to believe. We can intervene more effectively where false claims cause most harm.
Become a donor today and stand up for better public debate, on all sides, across the UK.
---