Have bankers displaced politicians and journalists as the least trusted profession?
5 July 2012
MPs will today debate what form the proposed inquiry into the banking practices will take, after the recently-deposed Barclays' chief executive Bob Diamond brought a political dimension to the Libor fixing scandal at his appearence before the Treasury select committee yesterday.
Labour are calling for a judge-led inquiry rather than the Parliamentary inquiry put forward by the Government, with supporters of the judicial route arguing that it would be difficult for the public to rally behind the inquiry's findings if the least-trusted profession - bankers - were to be investigated by the second least-trusted: politicians.
Full Fact has commented before that politicians and journalists routinely find themselves rooted to the bottom of league tables on public confidence in various professions, but have the recent banking controversies led to bankers displacing them for this dubious honour?
That was certainly the conclusion of one recently-released poll, commissioned by ITV News and conducted by ComRes.
It found that just 10 per cent of people trusted politicians to tell the truth, with the same proportion backing bankers to do likewise. However while 77 per cent thought politicians generally didn't tell the truth, 78 per cent of people thought bankers routinely failed to do so.
Any MPs or journalists looking for solace might be disappointed however. While bankers now find themselves bottom of the pile in terms of public trust, politicians and journalists fare little better, occupying the next lowest positions.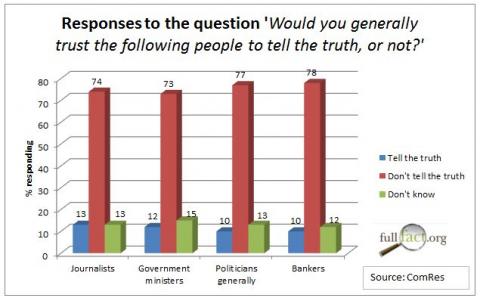 What we don't know from this latest poll is what effect - if any - the recent banking controversies have had on public confidence in bankers.
ComRes confirmed to Full Fact that this is the first time that they have run this particular question, although they did tell us that it was their intention to repeat the series in future. For now, we can't trace any movements in the relative popularity of bankers, politicians and journlaists from this data.
Another polling company - Ipsos Mori - have run a regular tracker on public trust in various professions since 1983. This has consistently shown politicians and journalists to be the least-trusted people in public life, with each enjoying the confidence of fewer than one in five people on average over the past 30 years.
However the Ipsos Mori data doesn't include a specific category for bankers. The closest proxy it supplies is 'business leaders', who alongside politicians and journalists bring up the rear of this particular trust index.
So while bankers are ranked as the least trusted profession in the latest ComRes study, we will have to wait to see whether they will remain marginally below politicians and journalists once the current controversies have blown over.