"Nearly 1,000 rioters have been given custodial sentences, lasting on average four times longer than those awarded for similar crimes in 2010."
Daily Telegraph, 27 February 2012 [also in Financial Times, Guardian and Daily Express]
The Ministry of Justice last week released its latest update on the aftermath of the English riots in August last year.
Over the last few days, the figures have been reported by the Financial Times, Express, Telegraph and Guardian. The most remarkable is that, on average, those rioters receiving custodial sentences have seen lengths four times the size of those sentenced for similar offences in 2010.
So what do the figures say?
Analysis
The Ministry of Justice has released several statistical bulletins on the status of those convicted of offences relating to the riots following their initial report. The most recent was released on at the end of last week and contains statistics gathered up until midday on 1 February 2012 [the report mis-states this as 2011].
The report confirms that 2,710 people have been brought before the courts as a result of the riots. Of these, 1,789 have been resolved and 921 are as yet incomplete. Of those resolved, 945 have received immediate custodial sentences, 538 non-custodial and 306 have been dismissed or acquitted.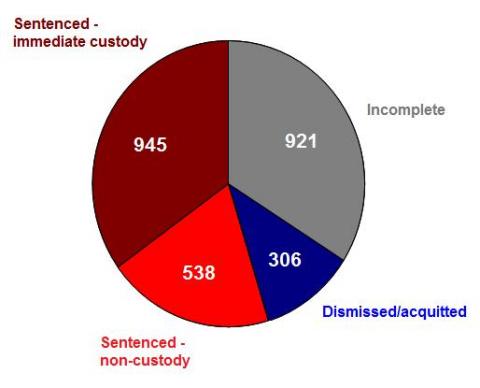 This 945 figure is the newspapers' "nearly 1,000". Of those, the report states that the average sentence length was 14.2 months, compared to an average length in 2010 of 3.7 months for "similar offences".
The report highlights at the start the limitations of these comparisons however, stating:
"When comparing sentences given for public disorder offences with sentences given for indictable offences in 2010 it is important to remember there was no widespread public disorder in 2010. In this bulletin comparisons have been made with proceedings in 2010 covering similar offence types seen in the disorder — such as burglary, theft and violent disorder - to provide context to the sentences given."
That said, examining the figures for the individual offences shows considerable variation between them to generate this overall average: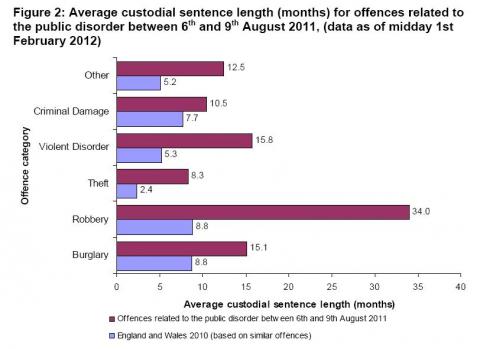 Offenders convicted in relation to the riots have been handed longer average jail terms (the purple bars) than those seen in 2010 (the light blue bars). The most extreme differences are in robbery and theft offences; the most modest in criminal damage sentences.
The Express also provided detail on the age of the rioters, reporting that more than half of those before the courts was under 20. The figures verify this, by age group: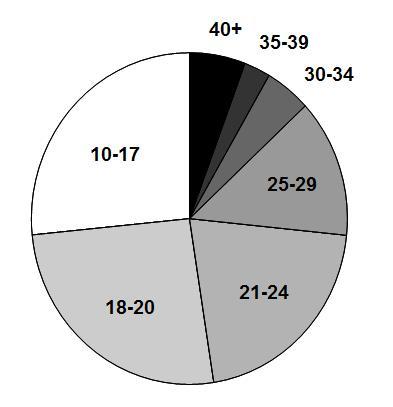 Conclusion
The news reports accurately reflect the statistics provided. However, the reliability of the sentence comparisons with 2010 should not be exaggerated given the Ministry of Justice's own proviso to the figures.
It is also clear that, with 921 cases awaiting a final outcome, there is still more time to wait before we will have the full picture of the sentences handed out.
---