How fast is NHS executive pay growing?
25 February 2011
"NHS bosses' pay soars 50 per cent as thousands of doctors and nurses face axe"
Daily Mail, 23 February 2011
The union-backed campaign website False Economy seems to have yesterday found an unlikely ally in the Daily Mail, which reported its claim that over 50,000 NHS jobs were at risk from funding cuts by comparing this to the 'soaring' pay packets of hospital chief executives.
But is this rise as large as the 50 per cent increase the paper highlights over the past five years?
The first point worth making is increases of this magnitude don't apply across the board: the Mail notes further in to the article that executives have actually seen pay rises of "up to" 50 per cent, acknowledging even deeper into the story that this figure only applies to the Chief Executive of one trust: the Central Manchester University Hospitals Trust, whose pay was up 48 per cent since 2008.
However the shorter time frame used by the Mail here is illuminating: a look at Central Manchester Hospitals Trust's accounts shows that their chief executive actually took a 25 per cent pay cut in 2008, and an analysis over five years wouldn't show such a steep pay increase.
So if the example given by the Mail is something of an anomalous case, what is the true extent of NHS executive pay rises?
According to December's interim report of the Government-appointed Hutton Review into fair pay in the public sector, the lead executive of NHS trusts saw average annual salary increases between 2001 and 2008 of 6.2 per cent. Assuming this was the case over the last five years, the average total pay rise for this period would be 35.1 per cent.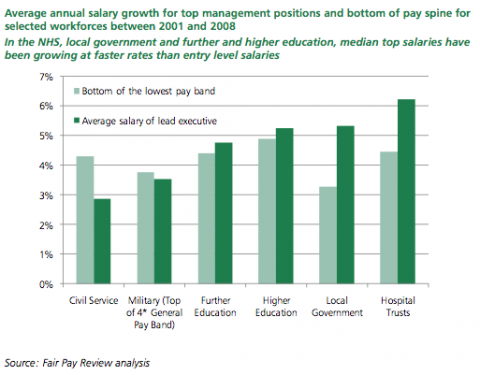 However Incomes Data Services (IDS), who compile an annual report on NHS executive pay, place the average annual rise some way higher than this. According to its most recent report — released in April last year — NHS executive salaries had risen some 42 per cent between 2004 and 2009.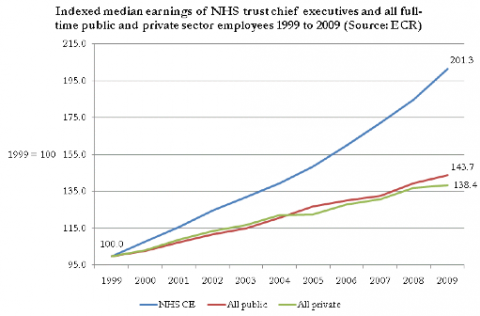 Whichever figure is used, it is certainly true that growth in NHS executive pay had outstripped any other pay band in the public sector. However both IDS and the Hutton review both acknowledge that this owes much to changes in the way the NHS is structured and run.
For example, since it was introduced in 2003, an increasing number of NHS trusts have gained Foundation Trust status. This entails greater financial independence from the Department of Health, requiring chief executives to take on some financial roles more commonly associated with the private sector.
As the Hutton report notes: "managerial roles within the NHS may now comprise elements of risk management, strategic financial planning, competitor analysis and partnership management to a far greater degree than in the past."
In this context, growth in NHS executive pay is more inline with that of FTSE 100 top-earners, whose pay has grown 43.8 per cent over the 2004-2009 period. This is a point also made in the Hutton review, which states that: "On the occasions when the public sector does recruit from the private sector it has to pay significantly more for staff, creating knock-on inflationary pressures."
Conclusion
The example given by the Mail to illustrate its claim that NHS executive pay has increased by 50 per cent may be problematic, but its wider point does seem to tally with the broad picture given by the best estimates of salary increases.
Whilst the comparison may be somewhat unfair, given the extent to which the role has changed since the introduction of Foundation Trusts, such as it is, a figure of 42 per cent growth can be substantiated.