Immigration: newspaper headlines confuse latest figures
26 August 2011
A glance at this morning's headlines might have left some readers with the impression that more and more people were arriving on UK shores to live and work.
Reporting the latest set of migration statistics, the Express lead with a front page headline of "Immigration soars 20% in a year."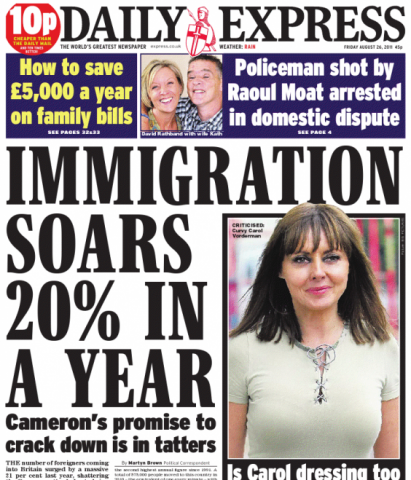 Likewise the Mirror's piece was headed "Immigration up by more than 20%," while the Daily Mail piece ran with "Immigration soared by 20% last year." The Independent also ran a story under the headline "Immigration to UK rises by more than 20 per cent."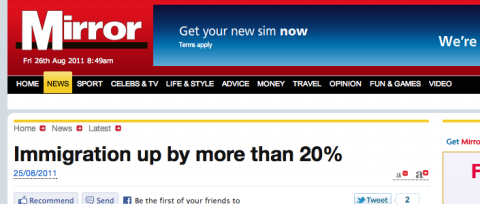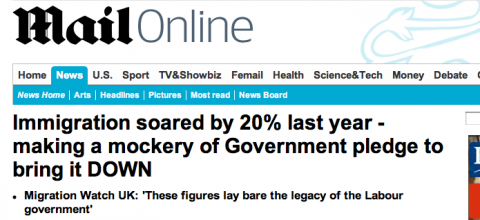 The problem with these headlines is that they are not actually supported by the facts.
The Office for National Statistics (ONS) Quarterly Migration Statistics report from which the stories are drawn makes clear that the rise that the headlines are describing is actually in net migration.
The report notes: "The provisional estimate of net long-term migration to the UK in the year to December 2010 was 239,000, an increase of 21 per cent on the estimate of 198,000 in the year to December 2009."
Whereas immigration is the measure of people arriving in the UK, net migration measures the balance between arrivals and the number of people emigrating from the UK.
The distinction may seem a subtle one, but in this case it's very important.
A closer look at the ONS report reveals that where immigration is concerned, the "level has been broadly maintained since 2004," as the graph below shows.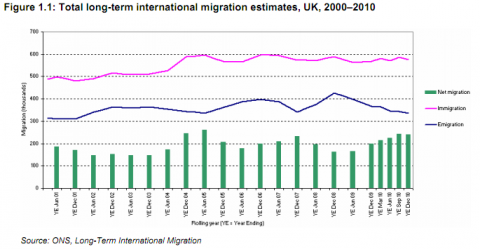 While readers of this morning's papers may have been left with the impression that there has been a large increase in the number of people arriving on these shores, this is not actually the case, as there has been little change here for some years.
Instead, the rise in net migration is being driven by fewer people leaving the country, which the ONS notes "is at its lowest since June 2005."
While the papers do all note the difference in the body of the articles, we will of course be contacting all the papers to request that the headlines are corrected.