Yesterday we wrote about a BBC news article which originally claimed social media crimes accounted for 'at least half' of front-line policing. They've since updated the article to clarify the quote - from an interview with Alex Marshall, the head of the College of Policing - was in reference to calls, not all front-line police work.
The College of Policing also clarified to us yesterday morning that they meant half of all calls to police officers dealing with low level crime, so not all front-line police officers either.
We've asked the BBC to update their headline to make this clear. We've also contacted the Independent and the Daily Telegraph who picked up on the story, correctly referring to calls but still suggesting all front-line police officers. Or, in the Telegraph's case, all police officers.
The Independent have corrected theirs: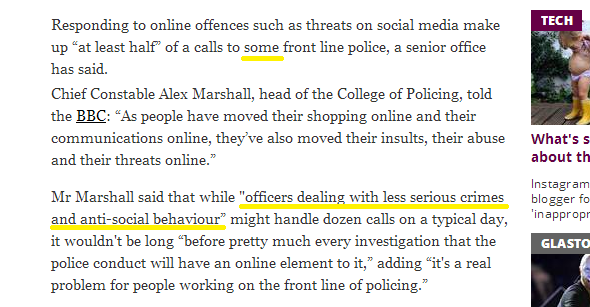 The Daily Mail also clarified their headline after publishing, from "Crimes from social media make up 'at least half' of front-line police calls', says senior officer" to:

With Brexit fast approaching, reliable information is crucial.
If you're here, you probably care about honesty. You'd like to see our politicians get their facts straight, back up what they say with evidence, and correct their mistakes. You know that reliable information matters.
There isn't long to go until our scheduled departure from the EU and the House of Commons is divided. We need someone exactly like you to help us call out those who mislead the public—whatever their office, party, or stance on Brexit.
Will you take a stand for honesty in politics?
---