Yesterday we wrote about a BBC news article which originally claimed social media crimes accounted for 'at least half' of front-line policing. They've since updated the article to clarify the quote - from an interview with Alex Marshall, the head of the College of Policing - was in reference to calls, not all front-line police work.
The College of Policing also clarified to us yesterday morning that they meant half of all calls to police officers dealing with low level crime, so not all front-line police officers either.
We've asked the BBC to update their headline to make this clear. We've also contacted the Independent and the Daily Telegraph who picked up on the story, correctly referring to calls but still suggesting all front-line police officers. Or, in the Telegraph's case, all police officers.
The Independent have corrected theirs: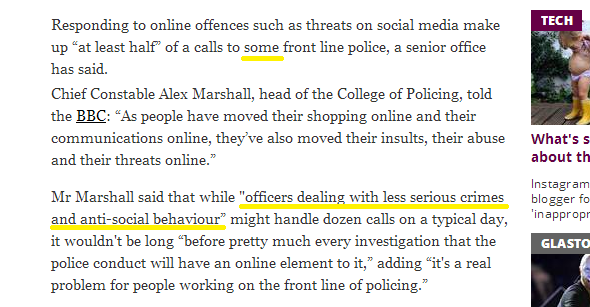 The Daily Mail also clarified their headline after publishing, from "Crimes from social media make up 'at least half' of front-line police calls', says senior officer" to:

We need facts more than ever.
Right now, it's difficult to know what or who to trust. Misinformation is spreading. Politics and the media are being pushed to the limit by advancements in technology and uncertainty about the future. We need facts more than ever.
This is where you come in. Your donation is vital for our small, independent team to keep going, at the time when it's needed most. With your help, we can keep factchecking and demanding better from our politicians and public figures.We can give more people the tools to decide for themselves what to believe. We can intervene more effectively where false claims cause most harm.
Become a donor today and stand up for better public debate, on all sides, across the UK.
---