Jeremy Corbyn's shadow cabinets have been the most diverse ever
4th Oct 2018
Claim
Labour's Shadow Cabinet is the most diverse in the British parliament's history.
Conclusion
Broadly correct. Currently 45% of the shadow cabinet are women and 13% are non-white. The highest-ever representation of women and ethnic minorities ever have been in previous shadow cabinets under Jeremy Corbyn.
"Labour's Shadow Cabinet is the most diverse in the British Parliament's history."

Kate Osamor MP, 23 September 2018.
Last month, Labour MP Kate Osamor shared an image originally from the Daily Mail, saying that Labour's shadow cabinet is the most diverse in British Parliamentary history.
There are lots of different ways of looking at diversity. We've focused here on gender and ethnicity.
Looked at this way the claim itself is broadly accurate. Currently, 45% of Labour's shadow cabinet (not including those who only attend) are women (14 MPs) and 13% are of non-white ethnicities (4 MPs).
The "shadow cabinet" is the team of senior spokespeople chosen by the Leader of the Opposition (currently Jeremy Corbyn) to reflect  the Government's "cabinet" (its team of most senior ministers). Each member of the shadow cabinet is appointed to lead on a specific policy area for their party.
However the image Ms Osamor shared didn't include the full shadow cabinet, and it also included a number of Labour MPs who aren't in the shadow cabinet at all.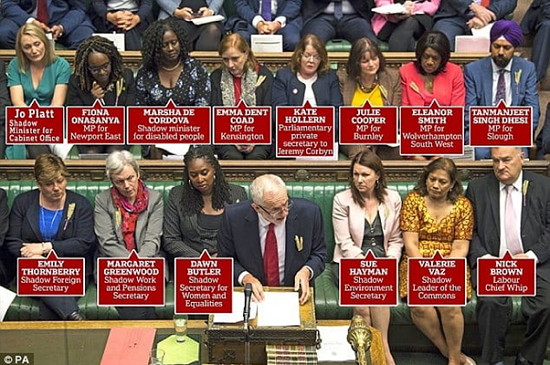 The image showed a group of MPs of whom (including Mr Corbyn) 80% were female and 40% were of non-white ethnicities—a much more diverse group than the shadow cabinet.
The image does show some members of the shadow cabinet (such as shadow foreign secretary Emily Thornberry), but also various backbench MPs including Peterborough MP Fiona Onasanya (wrongly labelled by the Daily Mail as the MP for Newport East).
Technically Labour's shadow cabinet had the highest ever female representation (54%) in September 2015 and the one in October 2016 had the highest ethnic minority representation (15%).
So while the current composition isn't the most diverse ever (taking either gender or ethnicity in isolation),  it's correct to say that Labour's shadow cabinets under Jeremy Corbyn have been the most diverse in parliamentary history.
Of Theresa May's current cabinet, 22% are women, and 4% are ethnic minorities (this does not include additional ministers who are invited to attend cabinet). The highest ever proportion of cabinet ministers who were women was 36%, from May 2006 to May 2007 under the Labour government.
Under Tony Blair's government from 2003 to 2005 there were two ethnic minority members of the cabinet (Baroness Amos and Paul Boateng). There were also two in Theresa May's cabinet from June 2017 (Priti Patel and Sajid Javid) until Priti Patel resigned in November of that year.