As Justice Secretary Ken Clarke today announces plans to 'toughen up' sentencing, there has been a clamour among certain MPs and newspapers to ensure that mandatory prison terms are given to all offenders wielding a knife, not simply adults.
Two Labour MPs stood up at last week's Prime Minister's Questions to voice their support for extending custodial sentences to juvenile offenders, with one — John Spellar — claiming that "40 per cent of all knife crime is carried out by under 18s."
The claim was taken from that morning's Sun newspaper, however as Full Fact found, the 40 per cent figure was not accurate when applied to the whole country, as both the Sun and Mr Spellar had done.
In fact, the figure referred to one estimate made by Enfield Police's Borough Commander, specifically about his north London patch. Official statistics are available on the proportion of knife offences committed by juveniles, and the figure was half that being touted in the press and Parliament.
Mr Clarke referred to this inaccuracy when giving evidence to the Home Affairs select committee this week.
However those hoping that this might bring an end to this particular mistake would be disappointed. Like a proverbial bad smell, the 40 per cent figure is refusing to leave the pages of the Sun.
Today the paper carries a column by the anti-knife campaigner Brooke Kinsella that stretches this claim further. She writes: "Almost half of the people committing knife crimes are in this age group."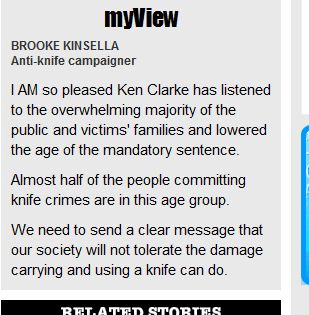 While the article it accompanies seems to tacitly acknowledge the paper's earlier errors by noting that "more than 40 per cent of knife crime in some areas involves juveniles, "(emphasis added) the original inaccuracies remain uncorrected. It should come as little surprise that one of the paper's commentators should make the same mistake when the paper itself allows these errors to remain on the record.
Having apparently turned down the opportunity to take corrective action of its own accord, Full Fact has decided that we should refer the matter to the Press Complaints Commission (PCC), so that these mistakes don't continue to misinform our legislators.
As ever, we will update you once these corrections have been secured.
Here is the original, uncorrected claim (as at 27 October 2011):

Isn't it nice to have the whole picture?
We rely on your donations to continue and grow our factchecking efforts - to help us maintain our independence we need 1000 donors to give £10 a month. We are currently at 351 - please help Full Fact grow.
---