It's correct that Labour's support is at a record low in polling history
8th Jul 2019
Claim
Labour's poll support is at a record low.
Conclusion
Labour polled 18% in a YouGov poll asking people how they'd vote in a UK-wide election. This is a record low, based on data going back to 1970.
Last week a Times front page claimed that support for the Labour Party is at its lowest-ever level, based on opinion polling.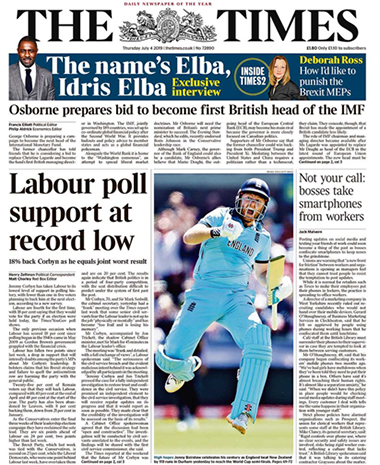 This is correct. A new YouGov poll, conducted from 2-3 July, found that only 18% of British voters would vote for Labour if a general election was held tomorrow—putting them in fourth place overall.
Data was weighted by likelihood to vote, excluding those who would not vote, did not know who they would vote for, or refused to say who they would vote for.
Labour has polled 18% once before—in May 2009—and never lower than that, based on data from UKPollingReport, a catalogue of historical polls going back to 1970 compiled by YouGov's Director of political and social research Anthony Wells.