In brief
Claim
Labour's poll support is at a record low.
Conclusion
Labour polled 18% in a YouGov poll asking people how they'd vote in a UK-wide election. This is a record low, based on data going back to 1970.
Last week a Times front page claimed that support for the Labour Party is at its lowest-ever level, based on opinion polling.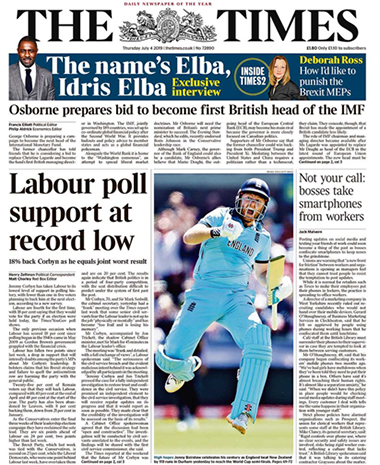 This is correct. A new YouGov poll, conducted from 2-3 July, found that only 18% of British voters would vote for Labour if a general election was held tomorrow—putting them in fourth place overall.
Data was weighted by likelihood to vote, excluding those who would not vote, did not know who they would vote for, or refused to say who they would vote for.
Labour has polled 18% once before—in May 2009—and never lower than that, based on data from UKPollingReport, a catalogue of historical polls going back to 1970 compiled by YouGov's Director of political and social research Anthony Wells.
Can you help protect this election from the influence of bad information? Support Full Fact
This election, clear, accurate facts won't always be a guarantee. False and harmful claims are spread every day by our public figures and media. Intentional or not, they have the power to shape the choices we make. We all deserve better than that.
That's why we're fighting to keep this election more honest and accountable. And we can't do it without you. In a fast-paced campaign, our supporters mean we can hold all candidates to the same three principles: get your facts right, back them up with evidence, and correct your mistakes.
Just a small monthly donation keeps us scrutinising the most harmful false claims around the clock, and challenging the people who make them.
If you, like us, don't want your vote to be influenced by bad information, can you help out?
---