Metro corrects nursing job cuts error
17th May 2012
Earlier this week Full Fact pointed out that the Metro, Times and i newspapers had all misreported the Royal College of Nursing's report on cuts to nursing jobs.
Today, the Metro became the first of these papers to set the record straight by printing the following correction on page two: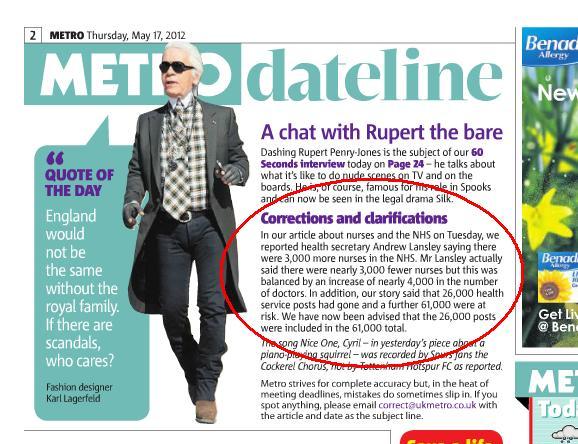 The newspaper clarified that Health Secretary Andrew Lansley on Monday said that there were 3,000 fewer, not more, NHS nursing posts in England. Also, the Metro clairifed that the Royal College of Nursing had claimed 61,000 NHS posts overall were either at risk or gone - rather than 61,000 on top of 26,000 already gone.
However, the online edition of the Metro article still displays the mistake at time of writing. Full Fact believes this needs to be changed as online Metro readers are still being presented with inaccurate information.
The Times and the i also reported the 26,000 posts supposedly lost and the 35,000 more at risk were nursing posts, when in fact these figures were for all NHS staff.
Full Fact is obviously delighted that the Metro responded to our request so quickly and has clarified all the issues that we pointed out. We hope that it will be equally receptive to an online correction.
Where the Metro leads by example, the Times and i still need to follow. The Times printed the mistake on page six of their Monday edition this week while the i printed it on their front page: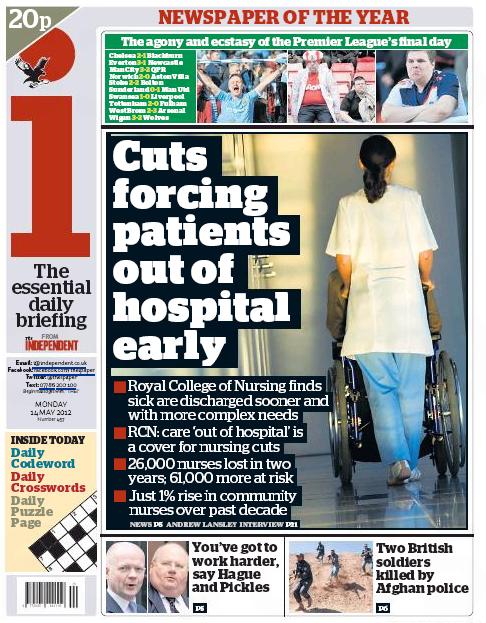 Full Fact has already contacted both papers to request similar corrections. In the i's case, the front-page prominence warrants a front-page correction and Full Fact intends to pursue as much. We will keep readers updated on how both papers respond.
UPDATE (17/05/2012 - 2pm)
The Metro have now corrected their online article.