Speaking on BBC Breakfast this morning, Nick Clegg claimed "millions of jobs in this country that are in one way or another dependent on our position in the European Union". A similar claim has been made in a Liberal Democrat Election Communication. But, as we've said before, this isn't quite the case.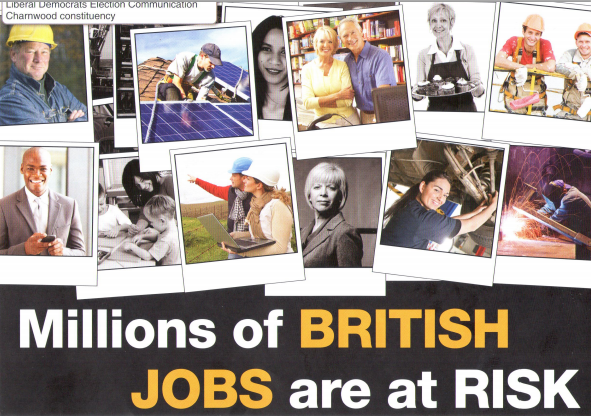 Figures on UK jobs and the EU relate to the number of jobs linked directly and indirectly with trade with the EU nations, but don't tell us how many would be lost if the UK left the EU, or even if any would at all.
One of the authors of early research into the subject conceded that a withdrawal could mean that "the risks become greater" for job losses, but reiterated that the figures did not show jobs 'dependent' on EU membership.
A full discussion of the issue is in our spotlight.
We've also got all our other factchecks on claims we've heard in the run up to tomorrow's European elections - including video factchecks of the Conservative, Labour, Liberal Democrat and UKIP party broadcasts - on our Europe hub page.
The integrity of our elections is in danger, and we need your help
You're probably here looking for facts. Thank you for that trust. But with the EU parliament elections on the way and more elections a possibility, we need to act now to make sure our elections are protected, before it's too late.
Could you help protect our elections by becoming a Full Fact donor?
Misinformation isn't new, but advancements in technology mean it can spread at an unprecedented scale. Our dangerously outdated election laws have not kept up with the digital age, putting our next elections at risk of abuse.
Currently, it's possible for a candidate to run a thousand different political ads to win the same seat, promising something different to each group it targets. At the same time, there's no law requiring those who publish online campaigns to disclose who they are or how they are funded. The opportunity for bad actors to manipulate election results is left wide open.
You may already know about our work to make public debate online more honest and transparent. Every day, we call out the most harmful misinformation on social media platforms when and where we see it. But right now, we're urging the government to overhaul our election laws to make sure political campaigning is held to the same level of scrutiny online as it is offline.
This work all depends on the generosity of hundreds of people who all believe that for democracy to work, we need transparency. Our monthly donors help strengthen our voice, and show our politicians that this really matters. Would you consider joining them?
Become a donor today to make sure our elections are protected.
---