New Year's resolution #1: I will take pride in corrections
23 December 2013
Corrections columns might not be among the most-thumbed sections of your average newspaper. Every now and again, perhaps, one might capture the imagination, such as when an Australian publication was forced to admit that where it had reported that "thirty thousand pigs" had been swept away in a flood, its source might actually have said "thirty sows and pigs".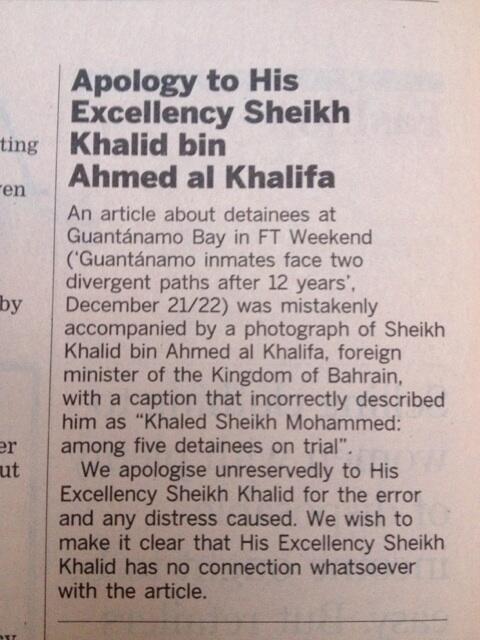 Closer to home, today's Financial Times corrects an unfortunate mix-up of Bahrain's foreign minister and a Guantanamo Bay detainee (via Philip Cowley).
As well as making the situation a little better for those directly affected, corrections demonstrate a commitment to fixing inadvertent misinformation. This should be a badge of pride for any media outlet or public body worth its salt.
In some ways, 2013 has been a good year for corrections. The Sun - still the UK's biggest newspaper in terms of its print circulation - launched a regular page two correction column after Full Fact and others pointed out a front-page error. This comes after it announced last year the creation of the 'Sun Ombudsman', whose role it is to listen to reader feedback, and means that alongside the Daily Mail, both of the most-read dailies now have a regular slot for corrections.
Page two corrections aren't a panacea however, and we'd like to see papers take a more flexible approach to correcting some of their more high-profile mistakes. In launching the page two correction column, the Sun, like the Mail before it, seemed to think that this meant front page errors didn't need fron page corrections. We disagree.
However the improvement has by no means been universal. The BBC, responding to the same error that the Daily Mail corrected in four hours, took a full 50 days to issue a correction.

Meanwhile, although Ministers do have their own corrections column in the Parliamentary record, they don't use it consistently, and back bench MPs don't have one at all.

With all of these groups likely to spend some of 2014 wondering about how to rebuild trust, we suggest that correcting mistakes promptly and openly would be a decent place to start.