Newspapers correct incapacity benefit claims after Full Fact complaint
11 May 2011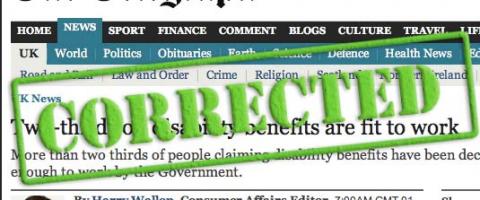 With protestors marching in London today against the Government's proposed changes to disability benefit, the progress of the Welfare Reform Bill through Parliament has come under renewed media scrutiny.
However the media itself has been responsible for making some important mistakes in reporting these changes, and Full Fact has been working hard to ensure that this vital debate is kept accurate.
So we're pleased to report today that three national newspapers have agreed to print corrections to erroneous stories they ran back in February on the proportion of incapacity benefit claimants found fit to work by Work Capability Assessments (WCAs).
The Sun, Daily Telegraph and Daily Mail all claimed that two thirds of those applying for the Employment and Support Allowance (ESA) in the pilot areas of Burnley and Aberdeen had been found 'fit to work' by the examinations.
In fact, the official data showed that only one third were found fit for work, and another third were placed in the Work Related Activity Group. These are people found incapable of work in their current condition, but who should be capable of work at some point in the future with appropriate support.
This group could include hospital in-patients, those with chronic renal failure or patients being treated for cancer, and hence it was inaccurate for the papers to describe them simply as 'fit to work'.
Unfortunately we again found that the papers' reluctance to acknowledge the error made the correction process longer and harder than it needed to be, however we are happy that Full Fact's work seem to have been taken on board: when the latest set of 'fit to work' statistics were released a few weeks ago, the papers all managed to avoid repeating this mistake (although we did come across other errors).
We hope that by finally setting the record straight these particular errors will not be repeated by the MPs considering the Welfare Reform Bill, and Full Fact stands ready to ensure that future discussion of the legislation bear a closer resemblance to the facts.