"NHS waiting list passes 3m for first time in six years" says a headline in the Guardian.
Figures show that  2.99 million people in England had been referred for treatment but had yet to receive it at the end of April. The Guardian has added in an unknown number of waiting patients at the six hospital trusts which didn't provide any data to push the figure over 3 million.
Either way, it's the highest number of waiting patients since April 2008, when the figure stood at 2.94 million.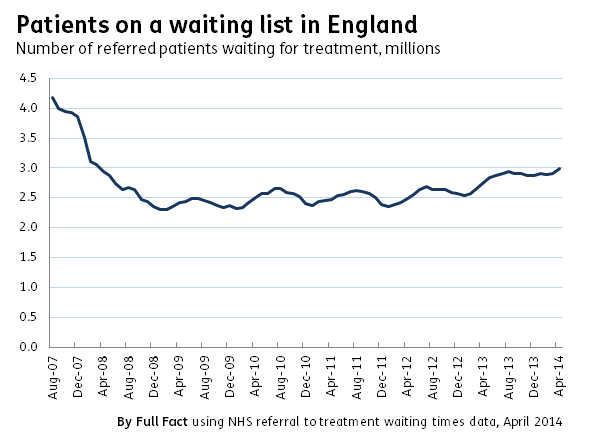 There seems to be an upward trend on the numbers who're waiting, although as we've noted in a previous factcheck, improvements to the way the data is collected might have increased the number recorded as waiting in 2012. The extent to which this might have impacted the 2013-14 data is not clear.
The increase in the numbers waiting doesn't seem to have been accompanied by a rise in average waiting times. In fact, the same data shows those still on a waiting list at the end of April 2014 had been waiting an average of 5.9 weeks compared to 9 weeks at the end of April 2008.
Isn't it nice to have the whole picture?
We rely on your donations to continue and grow our factchecking efforts - to help us maintain our independence we need 1000 donors to give £10 a month. We are currently at 502 - please help Full Fact grow.
---