Ofsted finally sets record straight on SEN misdiagnosis, after Full Fact campaign
3 November 2010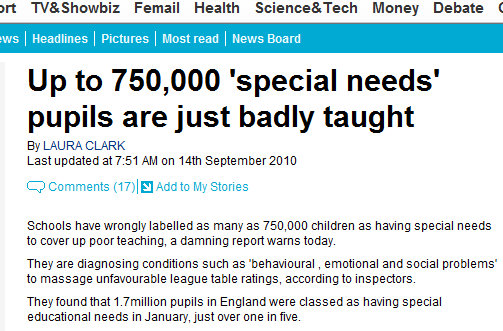 The fallout from Full Fact's investigation into the erroneous coverage of a recent Ofsted report into provision for children with Special Educational Needs (SEN) continues.
Regular FF readers will remember that a number of newspapers significantly exaggerated the amount of SEN children Ofsted estimated had potentially been misdiagnosed.
Reports ranged from half of all of the 1.7 million SEN children (850,000), to half of those considered in need of School Action or School Action Plus assistance (750,000), to half of School Action children only being misdiagnosed (425,000).
In the event we found that only the few publications which took the lowest figure were actually correct.
While we were successful in pressing some publications to change their figures, others, namely The Daily Mail, The Daily Telegraph and The Independent, argued that they were correct to say the figure could be as high as 750,000.
The reporters concerned told us they had been assured by Ofsted during a press briefing on the report, that as many as half of both School Action and School Action Plus children may have been misdiagnosed — thus justifying their higher figure.
But Full Fact wasn't going to let it rest there.
Working with Lord Low of Daltson, a parliamentary question was tabled on the issue.
Now we have final and indisputable confirmation that these figures are wrong, meaning the reports concerned have inflated the amount of SEN children misdiagnosed by as much as 300,000.
The proof is provided in a response from Ofsted Chief Inspector Christine Gilbert to a parliamentary question on the issue.
She states: "One of the findings of the special educational needs and disability review was that as many as half of all pupils identified for School Action would not be identified as having special educational needs if schools focused on improving teaching and learning for all, with individual goals for improvement. There was no such finding for pupils at School Action Plus. Although there were some specific examples in a few schools the review found no widespread over-identification at this stage of the code of practice."
Naturally we have made the relevant newspapers aware of her answer, and have again requested they correct their figures.
Despite the misreporting, our lawmakers are now well aware of the errors that have been circulated.
Ahead of a House of Lords debate about Ofsted's findings, we made sure participating peers were aware of the dubious statistics carried in some reports.
During the debate Education Minister Lord Hill accepted: "Identification is one of the core issues, and one of the issues about which there was most coverage in the media. I accept the point that there was a fair amount of misreporting about some of the detail in the report."
So while we continue to press for corrections from the Mail, Telegraph, and Independent, there is some hope, due to our work, that their miscalculations will not be repeated in future.