Headlines alone don't often do serious research justice, but it's a rarer sight to see two papers directly contradict each other as the Times and Independent did this morning:
Times: "Academy chains outperform state schools"

Independent: "Academy chains 'worse for disadvantaged children' than local authority schools"
The Sutton Trust published the research today on the impact of secondary sponsored academy chains on disadvantaged pupils. Their own headline gives a more balanced summary:
Sutton Trust: "Best academy chains outperform maintained schools for poorer pupils, but weakest ones fall behind"
As both newspapers make clear in their articles, the findings paint a mixed picture. Some academy chains perform well across a range of attainment and improvement measures - in some cases significantly above the average for all mainstream schools. Others consistently fall behind.
[caption id="attachment_34050" align="alignnone" width="550"]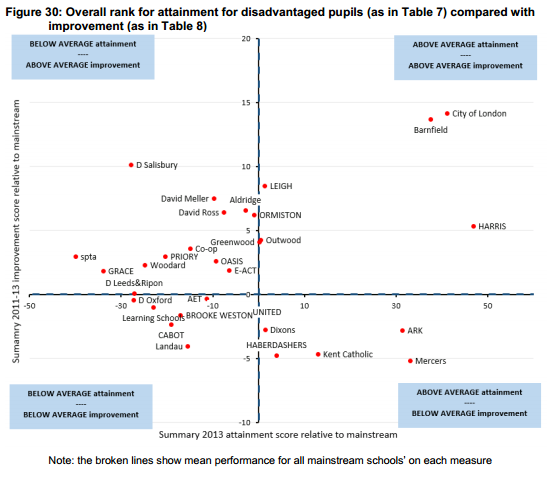 Graph from Sutton Trust report (page 50)[/caption]
The report acknowledges that it's to be expected that academies with low initial attainment levels will improve faster than the mainstream average: "on average, low attaining schools always show greater improvement than high attaining schools".
There's also a lot of data yet to come. The report concedes that there's not enough information yet to fairly judge the performance of primary sponsored academies as well, and the performance of many of the chains included in this research is only based on two academies.
We need facts more than ever.
Right now, it's difficult to know what or who to trust. Misinformation is spreading. Politics and the media are being pushed to the limit by advancements in technology and uncertainty about the future. We need facts more than ever.
This is where you come in. Your donation is vital for our small, independent team to keep going, at the time when it's needed most. With your help, we can keep factchecking and demanding better from our politicians and public figures.We can give more people the tools to decide for themselves what to believe. We can intervene more effectively where false claims cause most harm.
Become a donor today and stand up for better public debate, on all sides, across the UK.
---