Sicknote culture: A longer term view
24 February 2011
Britain's 'sicknote culture' has hit the headlines in recent weeks.
Last week it was reported that the amount of days leave taken by Whitehall workers amounted to a sick leave "epidemic", as government data revealed 1.6 million working days were lost in 2009-10.
New figures from the Office for National Statistics (ONS) have chimed in nicely with a recent spate of headlines about the the rise of sicknote Britain. Today it is reported that sicknote culture has caused these figures to soar.
This is curious, because the ONS statistical bulletin explains that since this data was first recorded in 2000 there has been a reasonably steady decline in sick leave rates.
The figures for the overall sick leave rate as well as the public/private sector breakdown are published below. The numbers refer to the percentage of the workforce who took one or more days off sick in the week before they were surveyed.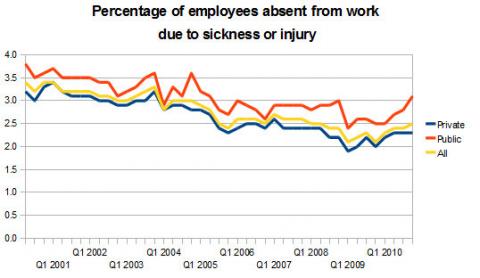 The odd thing about these stories is that the reports all acknowledge this trend, despite the headlines bewailing sicknote culture.
For instance, under the headline 'Sick Leave Figures Reveal Nation of Shirkers', the first line of the Express report begins: "SICK leave fell to a record low during the recession..."
Likewise the Daily Mail's headline tells us that the figures have soared, only for the article to say that this has soared from a record low.
Conclusion
As the sickleave rate is only back where it was before the recession it seems to be stretching the point too far to present the data as confirming a sicknote culture or showing up the country as a nation of shirkers.
While the headlines are a little exaggerated this seems more a case of making them more eye-catching without becoming misleading — a fine line that we have frequently found papers crossing in the past.