Sun launches regular page two corrections column in response to 'mental patients' mistake
23rd Oct 2013
The Sun will from now on publish a regular clarifications and corrections column, following recent complaints from Full Fact and others about errors in its front-page article on mental health patients. Today, it clarified the report on page two of the newspaper.
It's a deficient response to a front-page mistake in which the headline and the article prominently contradicted the research they were based on. The new column is, nevertheless, a welcome public indication that the newspaper intends to take complaints and corrections more seriously than it has done before.
After claiming in its headline that "1,200 killed by mental patients", the newspaper now concedes that the figure encompassed both patients in active treatment and those simply presenting with symptoms of mental illness. As we pointed out, this means the Sun's definition of 'patient' can include people with only minor symptoms who've had no contact with mental health services.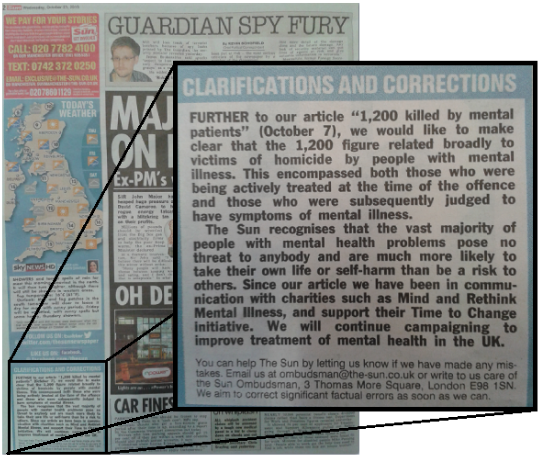 A dedicated column is good news for readers seeking to fix minor inaccuracies and, as the Sun confirmed to Full Fact, will contain contact details so that people know where they can take their requests. But it shouldn't become a hard-and-fast rule for all corrections. For the most prominent or serious mistakes, newspapers should be prepared to correct their claim in full view of their readers.
The Daily Mail also launched a dedicated page two corrections column in October 2011 following a pair of front-page correction requests from Full Fact.