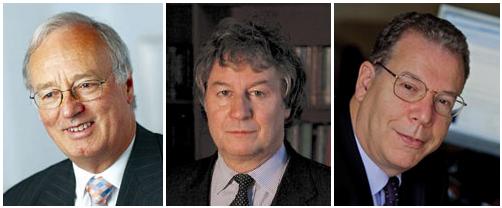 The watchdog responsible for keeping an eye on the use of official figures - the UK Statistics Authority (UKSA) - this week announced the appointment of two new Deputy Chairs.
Professor David Rhind (left above), who used to chair the UKSA's predecessor body, and Professor Sir Adrian Smith (centre above), who will soon leave the Department for Business to become Vice-Chancellor of the University of London, will serve alongside the recently-appointed UKSA Chair - Andrew Dilnot - and join the ten-strong Board of Directors.
They replace Lord Rowe-Beddoe and Sir Roger Jowell.
They are accompanied by Dr David Levy (right above) who joins the UKSA as a non-executive Board member. Mr Levy is Director of the Reuters Institute for the Study of Journalism at the University of Oxford and served as the BBC's Controller of Public Policy from 2000-2007.
Returning to one of his main themes, Andrew Dilnot commented that "the knowledge and insight" that Dr Levy has "will be instrumental in helping the Authority to further shape and develop statistical communication."
Sir Adrian will be responsible for the governance of the Office for National Statistics which, as regular Full Fact readers are well aware, is the UK's largest independent producer of official statistics, and helps compile, analyse and explain statistics for the public benefit.
Meanwhile, Professor Rhind will be responsible for promoting and safeguarding the publication of all official statistics across the UK. That involves scrutinising official statistics across all Government departments and devolved assemblies to ensure they conform to the highest standards.
Together, the two men will oversee the UKSA's two main functions and, along with Dr Levy, will provide support to the Chair. Full Fact looks forward to working with all of them.
Isn't it nice to have the whole picture?
We rely on your donations to continue and grow our factchecking efforts - to help us maintain our independence we need 1000 donors to give £10 a month. We are currently at 351 - please help Full Fact grow.
---