Was £75 million paid out in compensation to people with criminal records over the last 10 years?
30 January 2012
"Some £75 million has been paid out to 20,000 convicts over the last decade"
Daily Mail, 30 January 2012
"Over the past decade, 20,000 people with criminal records have been paid more than £75m"
BBC News, 30 January 2012
The Government has announced today that the Criminal Injuries Compensation Scheme will be reformed. Under the new guidelines, where an applicant has a criminal record, compensation will only be awarded in "exceptional circumstances".
It has been reported that, in the last ten years, more than 20,000 people with criminal records were granted compensation totalling more than £75 million.
Analysis
The Criminal Injuries Compensation Authority (CICA) only records information on a person's criminal convictions when the case is decided. Subsequently, it is impossible to know how many people with criminal records have applied for compensation.
CICA retains records for the number of cases where a criminal record has resulted in the sum being reduced or the claim being refused. The data is not available on the CICA website, but figures were given in a parliamentary answer by Jonathan Djanogly MP: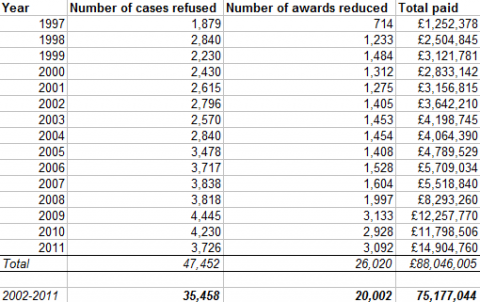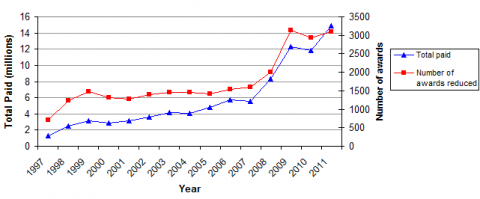 Mr Djanogly points out that "The current (2008) compensation scheme says claims officers must refuse or reduce compensation where the applicant has unspent convictions unless there are exceptional reasons not do so. But there are cases still being considered under previous schemes that didn't make such reductions compulsory."
Subsequently, there may be more applications currently still being considered where the applicant has a criminal record but this is not taken into account, increasing the number of payments to those with unspent convictions.
Conclusion
The data available from CICA is limited, and so we can only estimate the number of cases where an applicant has a criminal record. Assuming the figures are accurate, it appears that £75,177,044 was paid in compensation to 20,002 claimants between 2002 and 2011.
This figure may be higher due to reforms in 2008, which made a reduction in compensation mandatory where an applicant had a criminal record. Before this date, the reduction was discretionary and left to the CICA. Subsequently the true number of claimants with criminal records and the amount awarded over the last ten years could be higher.