Eilidh Whiteford: "I also question the view that the increase in the uptake of [social fund crisis] loans has not been down to the recession and the hardship that people have faced."
Iain Duncan Smith: "On the second question that she raises about crisis loans being down to the recession, the trend of upward claiming was on track and had started long before the recession."
House of Commons, 9 March 2011
One of the recurrent problems that Full Fact has encountered in its effort to keep the Welfare Reform Bill debate accurate is the scarcity of information relating to certain claims made by MPs.
The Department for Work and Pensions only made available data on the numbers of Disability Living Allowance claimants that hadn't had contact with the authorities after Full Fact raised concerns that claims on this topic relied upon apparently unpublished figures.
Similarly, when Work and Pensions Secretary Iain Duncan Smith had a disagreement with the SNP's Eilidh Whiteford about whether or not increasing numbers had been applying for Crisis Loans before the recession hit, we were unable to get to the bottom of the matter as only one year's worth of relevant information was available.
Unsatisfied by this, we submitted a Freedom of Information request to the DWP to get some answers. Today we received a response, and are at last able to shed some light on this debate.
The social fund was created by the 1992 Social Security Administration Act, and allows individuals to claim payments to cover a range of social expenses, such as winter fuel payments, maternity grants and funeral costs. It also allows people to claim crisis loans to cover essential expenditure that they can no longer afford due to emergency circumstances.
The DWP publishes the annual reports for the Social Fund from 2006/07 onwards on its website. From these we can see that both the number of claimants and the amount spent on crisis loans has risen every year since that point.

However only one of these reports (2006/07) covers the period before the banking crisis and subsequent recession, which began in September 2007 and Q2 2008 respectively. We therefore cannot judge whether or not this trend began "long before the recession" as Mr Duncan Smith claims.
Using the data provided by our FoI request, we can see that a more mixed picture emerges. Between 2000/01 and 2005/06, the number of crisis loan applicants remained fairly stable, never rising or falling by more than 5 per cent year-on-year. This compares to jumps as large as 45.4 per cent after the recession had begun.

Furthermore, if we look at expenditure on the loans in real terms, rather than in the cash terms figures given by the Department, we can also see that spending on the loans did not follow a purely upward trajectory. After reaching a peak in 2002/03, expenditure remained broadly flat until the banking crisis began, and actually fell in two consecutive years.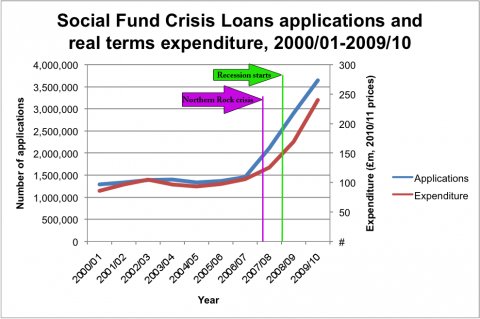 So whilst Iain Duncan Smith is not wrong to suggest that there was a "trend of upward claiming" in terms of both the number of applicants and expenditure on crisis loans, this trend is very slight, and does not compare to the rises seen in both measures from 2007/08 onwards. We may therefore have to score this particular dispute a score draw.
Isn't it nice to have the whole picture?
We rely on your donations to continue and grow our factchecking efforts - to help us maintain our independence we need 1000 donors to give £10 a month. We are currently at 351 - please help Full Fact grow.
---