In brief
Claim
94% of people in Wales don't want independence.
Conclusion
On average 6% of people in Wales said they wanted independence when presented with a range of options on how Wales should be governed. This is comparing polls which ask a consistent question over the last five years. Other polls have asked slightly different questions and found a higher proportion in favour of independence, but it's always in the minority.
"I do think we need to listen very carefully to the people of Wales. 94% of the people of Wales have repeatedly shown in poll after poll that actually, whilst being very proud to be Welsh, we are actually not in the least bit interested in an independent Wales."

Nia Griffith MP, 23 March 2017
Polls conducted over the last five years clearly show that supporters of Welsh independence are in a minority, but the exact proportion varies depending on how the question is phrased.
Since 2012 BBC Wales has commissioned regular polls on how people in Wales think they should be governed. On average these found that 6% of people thought Wales should be independent.
The most popular view was that the Welsh Assembly should get more powers (41% of people on average said this), followed by the Welsh Assembly's powers staying the same (29%). Around 17% of people thought that the Welsh Assembly should be abolished altogether and roughly 3% said it's powers should be reduced. The rest didn't know or didn't say.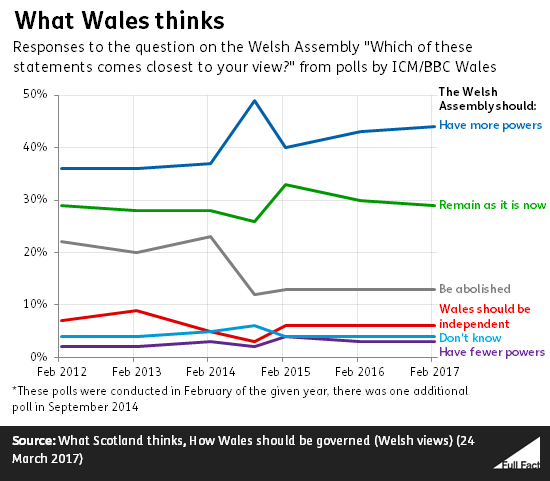 A separate poll done in July last year asked people whether they thought Wales should be independent, with only a 'Yes' or 'No' answer to choose between. 15% said 'Yes', and 65% said 'No'. 20% said they didn't know or wouldn't vote, a higher proportion than when last asked the question in 2014.
The same poll also had questions tied to specific events. One asked how people thought they'd vote on the issue of Welsh independence if Scotland were to become independent first. 19% of people said they would vote 'Yes', compared to 17% of people when the same question was asked two years before. 61% of people said that they'd vote 'No', compared to 69% in 2014.
Another asked people whether they'd vote for Welsh independence if it meant Wales could stay in the EU while the rest of the UK left. 28% of people said they'd vote for independence while 53% of people said they'd vote against it. The rest didn't know or wouldn't say.
Lastly, we've had questions from readers asking us whether polls are accurate reflections of public opinion. We hope to address this question in a future piece.
This factcheck is part of a roundup of BBC Question Time. Read the roundup.
Isn't it nice to have the whole picture?
We rely on your donations to continue and grow our factchecking efforts - to help us maintain our independence we need 1000 donors to give £10 a month. We are currently at 502 - please help Full Fact grow.
---