Which candidates have committed to trustworthy facts for London?
2 May 2012
A few weeks ago Full Fact contacted all seven candidates running to be Mayor of London.
We pushed for a committment from each that, if elected, they would operate the Greater London Authority (GLA) under the rules set out by the Code of Practice for Official Statistics.
Unlike the national government and other devolved assemblies, the GLA is not bound by the code. This means there is no insurance that:
Official Statistics used by government and politicians are also available to members of the public;
Politicians and journalists that use Official Statistics do so in a fair way;
Official Statistics are independently evaluated, and their limitations are made clear.
Full Fact has found in particular that this creates problems during election campaigns, as each candidate can offer their own spin on figures, with voters left to guess at which is more accurate.
After a number of attempts to contact the candidates, Full Fact can now reveal which candidates have, so far, committed to the Code: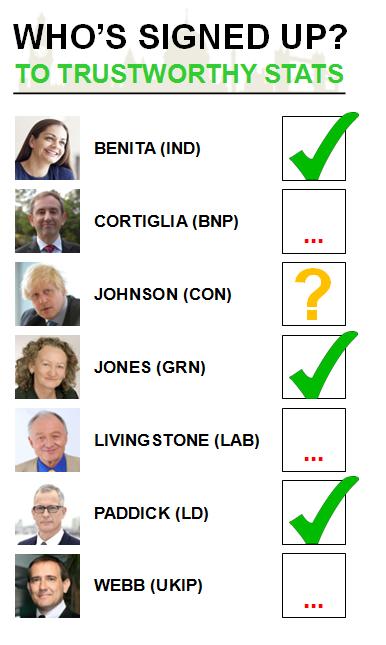 Green Candidate Jenny Jones has formally backed the Code in her 2012 Manifesto. Full Fact commends the candidate for showing this early commitment.
In addition, Liberal Democrat Brian Paddick and Independent Siobhan Benita have also informed Full Fact they will commit to the Code if they are elected, although they have not yet told voters of their intention to do so.
Boris Johnson's campaign has not as yet responded to Full Fact's call, but the Mayor himself has said that his past decision not to sign up is under review:
"There is a discussion going on in the GLA as I understand it about this matter. I am told that we are not what is called a primary producer of data but that may be changing in view of our absorption of the HCA and other bodies. Therefore, it may be that the situation changes. We are reviewing the position over the next few months."
Boris Johnson, 22 February 2012
No other candidates have, as yet, responded to Full Fact's call for trustworthy statistics, although we of course encourage them to add their names to the list.