These claims about speed cameras on the M1 and M25 aren't true
31st Jan 2019
Claim
All cameras on the M1 and M25 went live recently, set at 72mph.
Conclusion
Highways England says it is not aware of any changes on these roads. The normal speed limit on motorways and dual carriageways is up to 70mph although it may be lower at some points on these roads.
An auto ticket generating system will issue you with a six point penalty.
Highways England said they weren't aware of any new systems on these roads. Breaking the speed limit can result in a fine of at least £100 and three points on your licence. Speed cameras can't automatically issue points, but can trigger the process to issuing these fines and points.
Any speed over 90mph is an instant ban and possible court order and custodial sentence.
Only a court can impose a driving ban, and whether they decide do depends on the circumstances. Police guidance suggests that speeds over 96mph are likely to result in someone being summoned to court.
Claim 1 of 3
Several posts, claiming that all cameras on the M1 and M25 are being turned on "tonight", and automatic six point penalties are being issued if you go over 72mph, have been shared over 38,000 times on Facebook.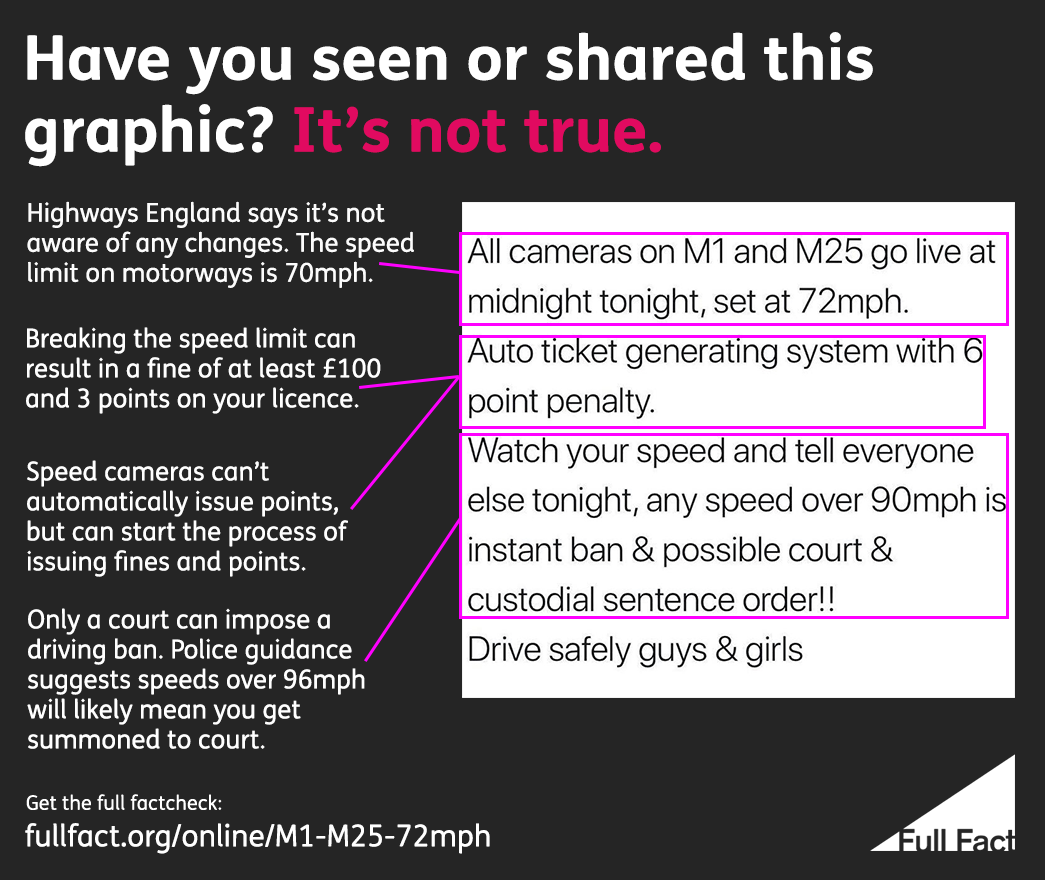 This isn't true. Highways England (the government company which operates and maintains motorways and major A roads) told us it was "not aware of any changes on the M1 or M25". It also tweeted in response to questions on social media about the claim that "the content of that tweet…is not correct".
It told us "the onus is on drivers to comply with speed limits, which are clearly signed and essential for safety."
The national speed limit on motorways is 70mph for most vehicles and 60mph for buses, coaches and minibuses, vehicles when towing and certain goods vehicles.
How much you get fined can depend on how much you go over the speed limit, the discretion of police, and potentially the decision of a court in some cases. The minimum penalty for speeding is an £100 fine and three points on your licence. There's a possibility of being issued six points, but this wouldn't be automatic.
There are no new cameras and the speed limit is still 70mph on motorways
Confusion around 72mph may come from police guidance (not law) about when to issue fixed penalty notices. This guidance says "police speed equipment are tested and approved to work with a maximum tolerance of +/-2mph up to 66mph and 3% for all speeds higher than 66mph, so it is possible to use these tolerances as a prosecution threshold". 3% of 70 is around 72mph, but if you are caught exceeding the speed limit by any margin, the police can send you a fixed penalty notice.
A fixed penalty notice is likely to mean a £100 fine and three points
If you are caught speeding by a speed camera, you'll be sent a Notice of Intended Prosecution and something called a Section 172 notice within 14 days. Automated speed detection systems (i.e. speed cameras) don't issue points automatically, but can issue these Notices of Intended Prosecution.
You have to reply to the Section 172 notice saying who was driving the car, then you'll be sent a Fixed Penalty Notice. If you are stopped by the police they can also issue you with a Fixed Penalty Notice. You can choose to plead guilty or not guilty to that notice. If you plead guilty you'll likely have to pay the £100 fine and have three points on your license (or sometimes attend a speed awareness course). If you plead not guilty, you have to go to court.
If the court decides you are guilty, you can get more points on your license. You can also be fined more. This is usually calculated as a percentage of your weekly income up to £1,000, or £2,500 if you were on a motorway.
Will you be automatically banned if you drive over 90mph?
Only the courts can impose a driving ban or disqualification on someone for speeding.
According to police guidance, you will usually be issued with a summons to appear in court if you go over 96mph on a motorway (assuming the speed limit is 70mph). If the case does go to court prison time isn't listed by the Sentencing Council as a penalty for speeding.
Speed limits can vary on the M1 and M25
Confusion may have arisen from the fact that parts of the M1 and M25 are smart motorways. The traffic on these roads is monitored and speed limits can be remotely varied, lanes can be opened or closed, and warning signs can be activated to help ease congestion.
On these smart motorway stretches mandatory speed limits can vary, but are displayed in a red circle above the road and legally these have to be followed.
In response to a question about whether speed cameras on smart motorways are always active, even if speed signs are blank, Highways England said in a tweet that this was the case in some sections "but it is the decision of the local police force (who administer speed enforcement) as to whether they pursue prosecutions for any detected offences".
This article is part of our work fact checking potentially false pictures, videos and stories on Facebook. You can read more about this—and find out how to report Facebook content—here. For the purposes of that scheme, we've rated this claim as false as the primary claims are factually inaccurate.